Benjamin Rabier" (1864-1939). The Mouse. 2 drawings on a board, feather and chine ink, grey wash. Signed "Benjamin Rabier" " lower right [ca. 1909]. Dimensions : 27,4 x 18,7 cm.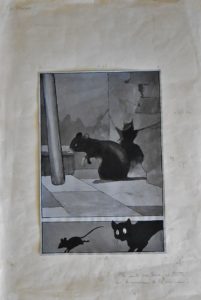 These two drawings were used as illustrations for "The Mouse", a story of the Histoires naturelles by Jules Renard, Paris, Modern-Bibliothèque, Arthème Fayard, no date [1909], in-8°, pp. 76 et 77 ; they are glued on a strong sheet of paper (45,6 x 31,5 cm) with, handwritten in pencil , the title, the caption "Elle saute par terre et trotte sur les carreaux de la cuisine ", and the drawing dimensions for the printer with the precision " 2 photos and the repeated surrounded mention "à faire ".
The drawings are sold with a copy of the Histoires naturelles, green percaline editor binding, illustrated plates and back, the cover preserved. In excellent condition.
Sold