[Armorial of the court of Elizabeth Ist]. No place, 1586. Little in-4°. 630 Watercolor coats of arms and captioned on 32 pp. unnumbered [8 coat of arms on the first page, 26 on the second, 20 on the following and 16 on the last; the number 144, forgotten, was added by the author on a piece of paper glued]. Fawn-colour half-calf, back with 5 false nerves adorned with gilt fillets and small flower gilt tools , gilt initials at the top of the back, p. label in green morocco. (N. Marlière).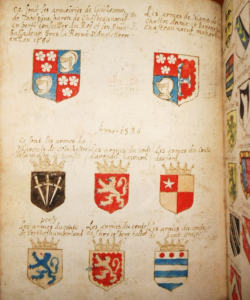 A real vademecum used by a diplomat taking up his post in London, presumably compiled by a Frenchman, as evidenced by the very approximate transcriptions of English family names, probably for the use of Guillaume de l'Aubespine (1547-1629), Baron of Châteauneuf, sent by Henry III as ambassador to England to Elizabeth Ist in 1585, or for the use of a member of his suite. Guillaume de l'Aubespine remained in office in London until 1589.; his coat of arms appear at the top of the armorial, larger than the following, captioned as follows: "Ce sont les armoiries de Guillaume de lobespine, baron de Chasteaunoeuf en berri, conseiller du Roy et son Embassadeur pres la Reyne D'Angleterre en l'an 1586 ". At his side, the coat of arms of his wife, Marie de la Châtre (1550-1626), maid of honour of Catherine de Medici, captioned as follows: "Les armes de Marie de la Chattre dame et baronne de Chasteaunoeuf miparties ". Follows the year, "1586 ", then 6 unnumbered crowned coats of arms: "marquis de Winchestre (Winchester) de la maison de Panset (Paulet) ", "conte darondel haward " (earl Howard of Arundel), "conte doxford ", "conte de Northethumberland " (Northtumberland), "conte de Shretosbery (Shrewsbury) talbot ", "conte de kent graie " (Grey).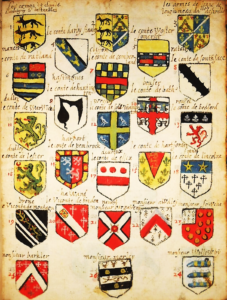 The following coats of arms are uncrowned and numbered, sometimes anarchically, suggesting that our heraldist himself drew from an armorial already constituted or refers to a previously established list., making a few copying errors that he carefully crossed out, and still transcribing as approximately English family names.
586 coats of arms are numbered, the 36 last are not, presumably original. We note, besides the coats of arms of the royal family since William the Conqueror (64) until Henry VIII (422), Queen Elizabeth's father, those of "Milord Crownuwell " (Cromwell ?) (45), "Richard Plantaginet, conte de Cormewel (Plantagenet Earl of Cornwall) et Empereur elect[eur] " (230), "Thomas Howard conte de Surrey ducq de Norfolk " (423), "Sire Guilliaume Gorge " (467), different lords, such "Mth Dunston Walton " (592), "Mth William Gardiner " (n.n.) or "Mth Eduart Barber " (n.n.), ending with the coats of arms of the "Roy des Indes " and of "Roy de poulane " [sic]. Note that the coat of arms of Henry III is left red, those of Henry VI (358) Edouard IV (390) and Mth Stany (511), white; the number 111 remained anonymous.
From the library of Aimé Leroy, with his yellow ex-libris engraved by Burdet after J. Potier. Aimé Leroy, born and died in Valenciennes (1793-1848), was a man of letters, lawyer at the Douai Bar, and above all bibliophile and curator of the library of his city.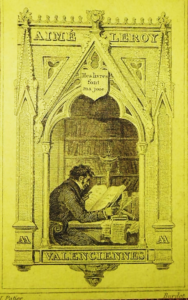 « My library, he wrote to Dr LE GLAY of Lille, contains 12.000 volumes. I don't have a catalog. I had it engraved, to be placed at the top of my favorite volumes, a vignette in which we see a man devoted to the study, among books and charters. At the top, we read: Aimé LEROY ; at the bottom, Valenciennes and, around the middle, in a small badge, this motto: My books make me happy. It is that indeed we are very happy with books, or rather we are much less unhappy. » Aimé Leroy is also known by bibliophiles for having bound a copy of the Géorgiques by Virgil with the skin of his translator, the abbé Delille, that he had taken from his body during his embalming. (See. René Paillot's article: Un Bibliophile du Nord, Aimé Leroy (1793-1848), in Bulletin des séances de la Société des sciences, de l'agriculture & des arts de Lille, années 1927-1928, Lille, Imprimerie L. Danel, 1929). Initials "M. S. » [Manu Scriptus ?] at the top of the back of the binding.
Small clear circle at the edge 3 leaves without affect the coats of arms, small drop stains [?] at the lower margin of the last leaf without affect the coats of arms or their legends. Exceptional freshness.
Rare and precious testimony about the court of Elizabeth Ist.
Sold