Louis Collignon, Baron de Kolli (1757-1825). Manuscrit. Mémoires historiques et Politiques sur Valençay. offerts aux souverains de l'Europe. Deux Volumes avec figures. 1820. 2 volumes in-8°. vii pp. (introduction), 1 white leaves, 276 pp. (text), v pp. (table) ; [1] p., 1 p. white, 277 pp. (text), 1 p. white, v pp. table. Manuscript on paper set at the lead mine and finely written in brown ink, very readable ; [2] watercolour drawings under serpentine and placed in frontispiece at the beginning of each volume: "S. M. C. Ferdinand VIIeme. Roi d'Espagne & des Indes " by Saint-Gest (vol. 1) ; "Le Donjon de Vincennes, vu de l'intérieur de la forteresse " [escape] (vol. 2). Long-grained cherry morocco, decorated back with double gilt fillets, golden title and volume number, simple golden fillet on boards with dedication and date pushed in golden letters on each front cover: "manuscrit / Au Gouvernement britannique / 1820 ", golden hatchings on cups, counterplates and enpapers on pale green paper, gilt edges. (Contemporary binding).
Beautiful manuscript dedicated "to the British Government", probably the handwritten copy of the author, revised in an elegant handwriting, with the corrections probably from his hand, offered to the Duke of Wellington in 1820, three years before it was printed in 1823.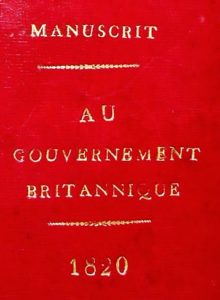 It was extensively censored and expunged. Some passages have been scraped and rewritten directly to the pen or on several mounted paper, sometimes very critical(like I, p. 108, about letters that are stated to have been "inserted into the public sheets of 1810, with guilty intent and very little accuracy "), entire pages have even been completely superseded (the Duke of Kent's letter to Wellesley, I, 101-104), and other passages, censored with big black line (Duke of Kent's ticket I, 110-112, and 179-180). The introduction and the first two chapters are unpublished. The text has been extremely reworked, and has many variations with the edition of 1823. Some corrections have been retained, others, many, aparted. It should be noted that some passages concerning Wellesley have been censored.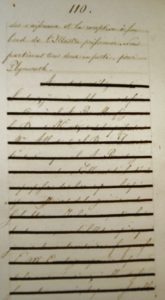 Very early, the manuscript was in the library of the Duke of Wellington (Lord Wellesley) for which it was probably composed, to obtain any favour ten years after the events. Wellington (1769-1852), had campaigned in Spain, beginning of his extraordinary military career ended with the victory of Waterloo. The Duke had thus put Ferdinand VII back on his throne, and Kolli does not fail to devote an important place to Wellington in his account. Opus of courtier in misery? Probably also an opportunity to remind the mighty Duke, who was at the time in important military and political positions in England, his dedication and the risks he had incurred in this crazy escape project. At the beginning of each volume, the author does not fail to specify: "Historical briefs and Policies on Valençay offered to the Sovereigns of Europe and written by the Colonel Baron of Kolli, who 1810 was tasked with a major mission by the British Government near S. M. C. Ferdinand VII, King of Spain and India, then Prisoner in Valençay ; authentic pieces in support of these memoirs ; those emanating from the Kings, Princes and others… Details of the author's captivity at the Dungeon of Vincennes, pendant les années 1810, 1811, 1812, and 1813 ; his transfer to Saumur Castle in 1814, his freedom, and his second captivity in 1815. "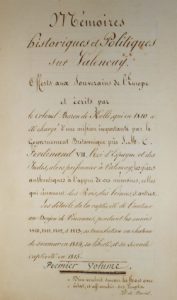 Louis Collignon, called Baron kolli (1757-1825) was a Piedmontese adventurer who pretended to be an Irish baron and conceived the plan to escape Ferdinand VII from Valençay : the Spanish sovereign was to board the coast of Brittany (Quiberon Bay) for England. Kolli obtained the approval of the British government and a sum of 200.000 francs in rough diamonds. He was arrested in Paris before he had even implemented his project. Kolli was imprisoned in Vincennes and then at Saumur Castle. After a stay in Spain, he returned to France and died in misery. Following Bayonne's meeting in 1808, Napoleon had Charles IV abdicated, put Joseph Bonaparte on the Spanish throne and installed Ferdinand VII in Valençay until 1813. On 11 December 1813 the treaty that restored Ferdinand VII to the throne of Spain and The Indies was signed in Valençay : French troops had to evacuate the occupied provinces and Ferdinand commit to sending the English away. (see Tulard, 783 [for the edition published under the title : Mémoires du baron de Kolli et de la reine d'Etrurie, Paris, 1823] : "Very suspicious memories of this Piedmontese adventurer embroiled in various intrigues around Ferdinand VII" ; Leonce Grasillier, Aventuriers politiques sous le Consulat et l'Empire : le Baron de Kolli et le Comte Pagowski,, 1902).

Copy of the Duke of Wellington, the manuscript was then acquired by the great English bibliophile Thomas Phillipps (1792-1872) in January 1843, as the indication shows " Bought at Lord Wellesley's sale by Evans, Jan. 1843 ", and listed "ms 15864 ".
Binding a little rubbed and epidermated, corner wear.
Very beautiful and precious copy however, with the prestigious provenance.
Sold