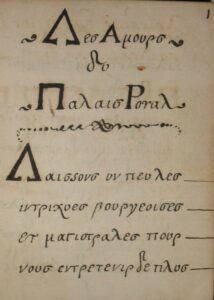 [Roger de BUSSY-RABUTIN ?] Λεσ Αμουρσ δυ Παλαισ Ρουαλ [Les Amours du Palais Royal]. Manuscript written in French encrypted in letters of the Greek alphabet. Last quarter of the seventeenth century. In-16 of [6], 122 ff. Contemporary fawn morocco, mute four raised bands richly decorated with flowers, triple gilt fillet framing the boards with the initials "MP" gilt in the centre of a double open olive branch, gilt roulette on the edges, gilt edges.
The first 6 leaves present a preliminary writing in Greek, no doubt to give the impression of the general content of the manuscript, quoting, among other things, verses by the geographer Denis the African about the columns of Hercules: "ἐντα τε κὶ ςῆλαι περὶ τέρμαςιν Ηρακλεός εσασῖν μὲγα θαῦμα πάρ ἐσκαλοωντα γάδειρα Ηκίτε κὶ ἐς χαλκειος ὀυρανὸν εδραμε κίων", which André Valladier repeats in his Labyrinthe royal de l'Hercule Gaulois published in 1601, followed by two lines of translation "Là se guindent au ciel, les colonnes d'Alcide : / Grand cas: l'une est d'airain à la rive Atlantide" (p. 205); some of the paragraph headings, in bold capitals, appear to be fanciful. These 6 leaves conclude with a truncated line from the XXVII Idyll of Theocritus' Bucolics, 'ΠΑΣΑΝ ΤΑΝ ΑΓΕΛΑΝ ΠΑΝΤ'[ΑΛΣΕΑ ΚΑΙ ΝΟΜΟΝ ΕΞΕΙΣ]', a line also quoted by Valladier (p. 129) and translated as follows: "Thou shalt have all the flocks / [Les forés & les coupeaux]". Pronounced by Daphnis, who is trying to seduce a young girl, it could serve as a clever exergue to the text, a seductive speech by Louis XIV, a rich and powerful sovereign, to the young Louise de La Vallière.

Les Amours du Palais Royal, a handwritten pamphlet that circulated clandestinely, was published in Holland around 1667 under the title Histoire du Palais Royal. The first lines of the work – "Let us leave the intrigues of private individuals ["bourgeoise" in our ms.] Let us see the King in his bed of love with as little shyness as in that of justice; and let us forget nothing, if it is possible, of all the steps he has taken" – leads us to consider this satire as a sequel to Bussy-Rabutin's Histoire amoureuse des Gaules, of which handwritten copies had been circulating since 1663 and the printing of which, probably in Liège in 1665, had sent its author to the Bastille. This is also the opinion of the owner of our copy, according to his note on the cover page. However, as Gérard-Gailly notes, "we hardly see Bussy, author in spite of himself, adding fuel to the fire, and adding, from his prison, the Palais-Royal to his disastrous libel. Throughout his years of exile, repentance and silence, he could hardly be seen imploring royal forgiveness by producing an uninterrupted series of scandalous little papers on the love affairs of Louis XIV, when he did not even dare to let his Memoirs, so full of monarchical fidelity, circulate. This means that the author could well have been Gatien de Courtilz de Sandras, at the instigation of the Prince of Condé, who was hurt by Bussy's unflattering portrayal of him in his Histoire amoureuse and thus wished to take revenge by attributing to him a satire against the king and his favourite. However, the text, attributed to Bussy, was republished under the title Le Palais royal ou les Amours de Madame La Valiere from 1680 in Les Amours des dames illustres de nostre siecle, then incorporated in 1688 in La France galante and in volume II of L'Histoire amoureuse des Gaules published in 1754 and in 1857.

Our manuscript reproduces with a few variations the Amour des Dames illustres de nostre siècle, published in Cologne in 1681, from p. 66 to p. 99; it ends with the Marquis de Vardes' farewell letter to the Countess de Soissons following the affair of the Spanish Letter. It tells of the monarch's thwarted passion for Marie Mancini, his love at first sight for Louise de La Vallière, her seduction and their affair in the midst of Court intrigues. It should be noted that the royal deflowering of the Duchess is modestly censored: "[…] a feeling that men usually have that it is only to have the satisfaction of fia fia fia, cle cle cle, quid quid" (p. 30).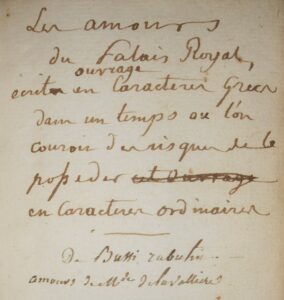 At the top of the first flyleaf, in ink lighter than that of the text, is the following statement concerning the risks involved in holding this pamphlet: "Les amours du Palais Royal, written in Greek characters, at a time when it was risky to possess it in ordinary characters / de Bussi rabutin / amours de Mde delavallière". This would probably explain the absence of a title on the binding. The lower endpapers, elegantly written in the same hand, feature an acrostic in continuous octosyllabic rhyme, also encoded in Greek letters, on the name "René Moron de Larochetière de Zagagep [sic]". It probably refers to René Moron de Rochetière, bailiff to Monsieur, the King's brother, who was imprisoned under a lettre de cachet in April 1689, then transferred in 1691 to the Besançon citadel as part of the Rouen affair, so named because "the main culprits were arrested in Rouen, both for suspicious correspondence with foreign countries and for proposals made and advice given against the King's person, as well as for plotting, forgery, evil deeds, arson, murder and other crimes, circumstances and dependencies"; Moron de Rochetière was also convicted of alchemical practices and forgery. (cf. F. Funck-Brentano, Les Lettres de cachet à Paris, étude suivie d'une liste des prisonniers de la Bastille (1659-1789), Paris, Imprimerie Nationale, 1903, p. 93, no. 1278 and p. 98, no. 3842). The reference to "de Zagagep" is purely fanciful, likely to mislead the indiscreet reader. He probably had the manuscript bound in his cipher, "MP", the "P" being the Greek capital rhô (r), trimmed a few leaves slightly short, and annotated the flyleaves in his own hand.
Acrostic [We transcribe in French characters].
Rome n'eut jamais parasite
Egal à son rare mérite,
Ni meilleur support de Bachus
Et plus digne apor [company] de Venus
Manger, rire, baiser et boire,
On n'a jamais veu dans l'histoire
Rien qui lui puisse être pareil.
Omer [Homère] ennemi du soleil [alluding to his blindness?]
N'eut jamais si grande science
Démosthène avec sa prudence
Est à ses pieds un mirmidon
Laurens Valla n'eut pas le don
A son égal de l'éloquence ; [Lorenzo Valla (1405-1457), Italian humanist who taught eloquence in Pavia]
Romulus plein de suffisance
Ovide galant et maron [sic]
Comme léloquent cicéron
Horace poète lyrique
Et thérence et plaute comique
Tertulien sont aujourdhui
Ignorants à legal de lui
Et que lon fouille dans leur poche
Rien de ce grand homme n'approche.
Escobart n'eut rien de si fort. [Antonio de Escobar y Mendoza (1589-1669), Spanish Jesuit priest, moralist and preacher of renown; his complete works fill eighty-three volumes.]
De tout il se fait un renfort
En morale comme en logique
Zenon lui cède la pratique
Aristote et ses cheveux gris
Gagneroient mal sur lui le pris
Avicenne ainsi quipocrate [Hippocrate]
Grands empoisonneurs de la rate
Et les plus cellebres anciens
Près de lui ne sont que des chiens.
From the library of Counts Henry (1898-1937) and François Chandon de Briailles, with their bookplates. Trace of ex-libris engraved on antique copperplate on upper flyleaf. Faded vignette of arms to be compared with those of Nicolas de Lézandevez, sieur de Rubian en Plogonnec, nobleman of Brittany in the 17th century, in discharge on the 3rd end papper, very faded. (O.H.R. 2335).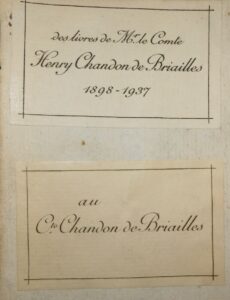 Some rubbing. A good copy, however, of this rare cryptic and clandestine pamphleteer manuscript.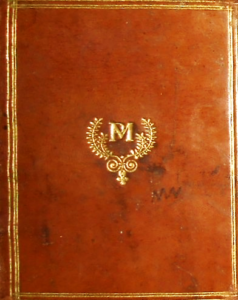 2 800 €