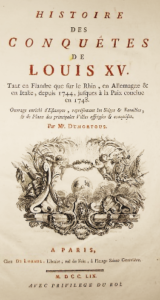 Pierre Dumortous. Histoire des conquêtes de Louis XV. Tant en Flandre que sur le Rhin, en Allemagne & en Italie, depuis 1744, jusques à la Paix conclue en 1748. Ouvrage enrichi d'Estampes, représentant les Sièges & Batailles, & de Plans des principales Villes assiégées & conquises. Paris, De Lormel, 1759. In-folio (44 x 29,5 cm), false-title, title, vj, 181, [1] pp. allegorical frontispiece with Louis XV in medallion by François Boucher, 27 plates of battles and 14 maps and plans of towns folded out of text, 7 vignettes and 5 endpieces, drawn by A. Benoît, L. Boquet, C. Eisen and engraved by L. Lempereur, J.J. Pasquier, L. Legrand, C. du Bosc. Contemporary mottled fawn calf, 6 ribbed spine with floral ornements, red morocco label, triple gilt fillet on covers with gilt coat of arms in the center, double gilt fillet on cuts, gilt edges.
First edition. Rare and remarkably illustrated account of part of the War of the Austrian Succession, 1744 campaigns in Flanders, Germany and Italy, 1745 and 1746 to 1748 campaigns in Flanders. Magnificent scenes and plans of towns and battles.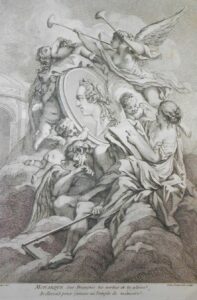 Pierre Dumortous, a lawyer at the Parliament of Paris, had the honour of personally presenting a copy of his work to Louis XV, a veritable monument to the military glory of the monarch who had personally commanded his armies during these victorious campaigns. "Since S. Louis, no King of France had beaten the English in person, in pitched battle" (p. 65, Fontenoy).
Our copy bears the arms of Charles de Rohan, Prince de Soubise (1715-1787), who took part in the campaigns and was aide-de-camp to the King. The work was published shortly after the Prince was made Marshal of France, on 19 October 1758, thus underlining his participation in the royal conquests of 1744 to 1748. On 26 October 1744, "the Prince de Soubise was in a trench when a stone broke his arm; he was taken to headquarters, the King was touched and went to see him the next day" (note k p. 20); the Prince is also mentioned on pp. 23, 48, 72, 95, 136 and 180.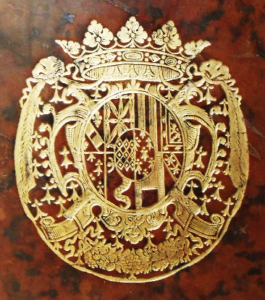 A childhood friend and close friend of Louis XV, he was his aide-de-camp at the Battle of Fontenoy in 1745, marshal of camp in 1747, and appointed lieutenant-general in 1748. In 1751, Louis XV appointed him Governor General of Flanders and Hainaut, Governor, Chief and Grand Bailiff of Lille. In 1755, he became Minister of State. Defeated at Rossbach in 1757, he took his revenge in 1758 at Sondershausen and Lutzelberg and received the dignity of Marshal of France for these feats of arms. He went on to suffer defeat after defeat. This general," emphasises Guigard, "known only for his defeats, no doubt in revenge for Bellone's refusals, threw himself wholeheartedly into bibliophily. He collected in his cabinet "typographical masterpieces from all places and all times; the rarest and most splendidly dressed works."
As the arms he had affixed to our copy did not reflect his recent dignity, he had the marshal's batons added. This makes the copy all the more precious.
A luxurious, complete copy, the list of plates erroneously mentioning 42 plates (the plan of Bruges has been counted twice). The engravings, in an excellent edition, are protected by serpents.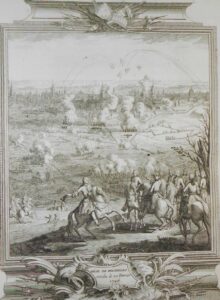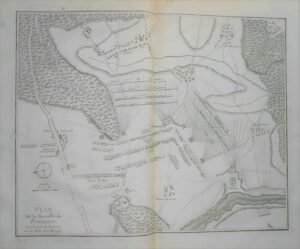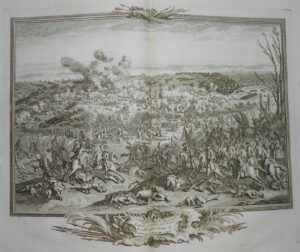 Cohen, Livres à gravures, 337. For the arms: Guigard, Armorial, II, 415-416, variant; O. H. R., pl. 2034, variant of no. 1, to which the marshal's batons have been added. Missing from the catalogue of the sale of the Prince de Soubise's library in 1788.
From the library of Roland Thibaut, with his engraved bookplate.
Some foxing to the text, a small stain to the map of Tournay, spotting to the boards, a few discreet restorations.
The copy is enriched, thumb-mounted, with 4 documents signed by protagonists of these conquests to Jean-Jacques du Portal, chief engineer from Strasbourg, who took part in them. 3 letters signed by the Comte d'Argenson, Minister of War, who "accompanied the King everywhere" at Fontenoy (p. 64) (2 concerning the 1744 campaign, the last that of 1748), and a requisition order signed by Jean Moreau de Séchelles, Intendant of Flanders between 1745 and 1748, quoted on pp. 96 and 181.
Jean-Jacques du Portal (1701-1773) was a lieutenant-general. An ordinary engineer in 1720, he was accepted in Strasbourg under his father's orders, served at the siege of Kehl in 1733, at that of Phillipsburg in 1734 and was part of the attack on Prague in 1741. He took part in the siege of Egra in 1742, then in the defence of Prague, where he redesigned the citadel and fortified the banks of the Moldau. In 1743, he commanded a brigade on the Rhine and fortified the banks of the river. The following year, in 1744, he took part in the attack on Wissembourg, the Lauter lines and the Soufflenheim entrenchments. As a brigadier, he led the sieges of Mons, Charleroi and Namur in 1746 and Maastricht in 1748. He was director of the upper and lower fortifications from 1758 to 1759. An infantry brigadier in 1759 and marshal of camp in 1762, he was employed as such to fortify the island of Saint-Domingue while retaining his command of Normandy. Promoted to lieutenant-general in 1773, he died in active service. He left three memoirs on the town and castle of Caen (1769-1771) which were published in 1905 (Archives historiques de l'Armée, 1re série, dossier 1 045; Dictionnaire de biographie française, XII, 1970, 493; A. Blanchard, Dictionnaire des ingénieurs militaires 1691-1791, Montpellier, 1979, p. 606-607).
Count of Argenson. Letter signed, Versailles, 6 April 1744, to M. [Jean-Jacques] Duportal, chief engineer in Strasbourg. 1 p. in-4°. Appointed sub-brigadier to "one of the Brigades of engineers who are to serve in the army which will be commanded by M. le Mal de Coigny, you will go to Strasbourg for the end of this month, where you will receive orders from M. Quénau de Clermont, Mal de Camp, Commander in Chief of all the Brigades".

Count of Argenson. Letter signed, [?], 25 September 1744, to M. [Jean-Jacques] Duportal, chief in Strasbourg. 1 p. in-4°. "On the report made by Mr Daumale, Sir, of the rank that each of the engineers destined for the siege of Fribourg should take in relation to his services and seniority, the King has appointed you to serve as brigadier of the sixth brigade".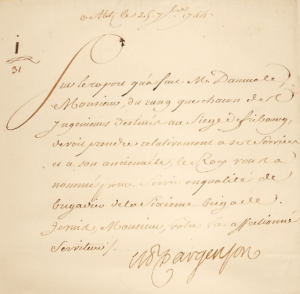 Comte d'Argenson. Lettre signée, Paris, le 5 juillet 1748, à Jean-Jacques Duportal, ingénieur en chef de Strasbourg a [Maastricht biffé] Lille. 1 p. in-folio. « J'ai reçu, Monsieur, la lettre que vous m'avés écrite le 10 du mois dernier avec les plans et les mémoires qui l'accompagnoient contenant vos observations tant sur les ouvrages de Maastricht que sur les opérations du siège. Je m'en feray rendre compte avec plaisir, et je suis persuadé que je trouveray dans ce travail autant de témoignages de vôtre talent, qu'il en donne de vôtre zêle pour le service. »
Jean Moreau, seigneur De Sechelle. Letter signed, Brussels, 12 July 1748. 1 p. in-4°. Letterhead with the royal coat of arms. "M. du Portal Brigadier des ingénieurs employé a l'armée, étant obligé de se transporter dans différents endroits du Pays en Flandre et en Brabant pour l'exécution des ordres du Roy; il luy sera fourny dans chacun des lieux villes bourgs et villages du Comté de Flandres, de la flandre hollandoise, soit de l'Escaut et du Brabant, le logement, et des guides a pied et a cheval lorsque les chefs officiers en seront requis."

One of the most sought-after works on the reign of Louis XV, with a prestigious provenance and precious documents enclosed.
4 500 €