FENELON. Les Aventures de Télémaque, fils d'Ulysse […]. Nouvelle édition augmentée d'un Discours sur la Poésie épique [by M. by Ramsay], et de Notes pour l'intelligence de la Mythologie. Paris, Bossange, Masson et Besson, An XII, 1804. In-12. xxiv, 403 pp. Title in frontispiece and 11 insert copper engravings by Tardieu the elder. Rooted fawn-coloured sheepskin, decorated back, title piece in red morocco, gilt ornaments on the cuts. (Contemporary binding).
Precious copy that served Madame de GENLIS (1746-1830) as a support for her criticism of the Télémaque by FENELON ; it is full of her handwritten notes dated from 18 at 30 June 1810, while she lived in the Arsenal Library : dated " 18 June 1810 " at the header of the text (p. xiv), then signed at the end of the last book, p. 390, " 29 June 1810, à l'arsenal, D. Genlis ", and on the last page, " 30 June 1810, à l'arsenal, D. Genlis ".
Famous for her teaching books and illustrious students, whose future King Louis-Philippe, Madame de Genlis wants to denounce the superficiality of her time : making a harsh critisism of the form, ignoring the substance, she will conclude that one of the most famous educational works of the past century turns out to be worthless. " Si Télémaque paraissait aujourd'hui, she notes at the end of the Discours by Ramsay, on le trouverait un ouvrage médiocre, parcequ'on ne s'attache qu'à l'époque et qu'on ne veut que de l'éclat vrai ou faux. Il y a beaucoup de négligence de style dans ce bel ouvrage dont le style est si beau dans les passages intéressants. Je vais les critiquer p[or]r prouver qu'en passant sous silence les grandes beautés d'un ouvrage et notant avec une sévérité minucieuse ses petits défauts on peut conclure qu'il ne vaut rien ".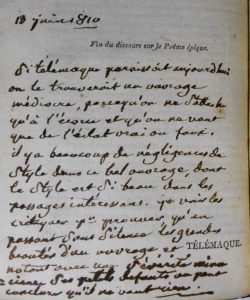 Indeed, the copy is completly full of passages highlighted and copiously annotated. Very punctilious at first, Madame de GENLIS notes repetitions, in particular to auxiliaries, inappropriate terms, sometimes indelicate or improper, counter-meanings, implausibilities and inconsistencies, sometimes even false principles (p. 187). However, along the way, her notes concern more the substance than the form, and the analysis becomes much deeper. The Countess gets hooked on it, and delivers some moral comments, few political reflections, such as those relating to the reception of the book by Louis XIV which caused the disgrace of its author, psychological remarks and some reflections. Finally, some admiring exclamations end up escaping her, mixed at first, then frank, although the criticism remains uncompromising, however..
Madame de GENLIS concludes her criticism on 29 June with a highly praised overall judgment, nethertheless, of Telemaque : " Beaucoup de défauts, surtout celui de n'offrir aucun caractère et par conséquent peu d'intérêt, un style souvent trop négligé. mais en même tems beaucoup de morceaux écrits d'une manière enchanteresse, des beautés sans nombre d'excellents conseils pour les princes, un fonds admirable de sagesse, de vertu et d'humanité, enfin un livre beau, utile et qui a justem[in]t immortalisé son auteur. "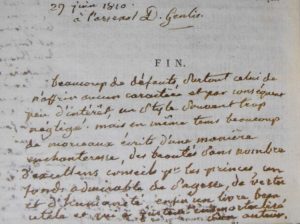 The next day, she judges harshly Les Aventures d'Aristonoüno : " Ces aventures dénuées d'imagination et d'intérêt sont très insipides quoique le dénouement en soit agréable ", followed, assuring of her sincerity, by an interesting reflection on the taste for the antique, very popular under the Empire : " quelques personnes d'esprit trouvent beaucoup de mérite dans ce petit ouvrage, mais je dis ce que je sens. Le gout antique tout seul, sans imagination et sans pensées me parait très ennuyeux. "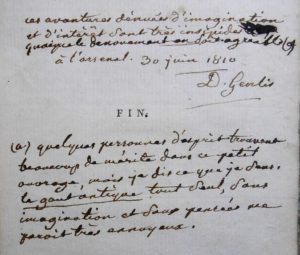 Madame de GENLIS later made a harsh critique of the Télémaque in her Observations critiques pour servir à l'histoire de la littérature du XIXe siècle (1811), essentially in order to restore Madame de MAINTENON by countering the canonical point of view personified by the Swan of Cambrai. This get her a real cabal.
This copy dates from Madame de GENLIS' stay at the Arsenal Library. Forced into exile and destitution by the Revolution, she had rallied to Napoleon BONAPARTE. He allocated her in 1802 an apartment on the noble floor of the Arsenal library. The calm required by the scholarship work of the library staff was ill-suited to her activities as a musician and hostess of the "Living Room of the Inseparables", which welcomed TALLEYRAND, Madame NECKER, BRISSOT or CHATEAUBRIAND. The library administrator at the time, AMEILHON, forced her to move to the top floor, then to vacate the premises permanently in 1811. Madame de GENLIS offered her works to the Arsenal only unwillingly and left no paper there, except the autograph manuscript of theHistoire de Henri le Grand. The memory of her living room, "conservatory of spiritual conversation" according to Gabriel de BROGLIE, and the reciprocal dogfight that degraded her relationship with library staff, haunt the Arsenal library, however. The Louis XVI décor that the founder of the library had arranged for his wife, where Madame de GENLIS received, now commonly named after her. (Biography published on the BnF website).
Unique and valuable copy.
Sold