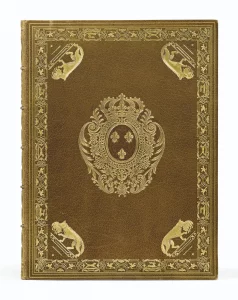 Jean de Clamorgan. La Chasse du Loup, nécessaire à la Maison Rustique. Par Jean Clarmorgan [sic], Seigneur de Saane, premier Capitaine de la Marine du Ponant. Dernière édition en laquelle est contenüe la nature des Loups, & la manière de les prendre, tant par chiens, filets, pieges, qu'autres instrumens : le tout enrichy de plusieurs figures & portraits representez au vray naturel. Au Roi Charles IX. Lyon, Jean-Baptiste Gimeaux, 1668. In-4°. 48 pp. 14 large woodcuts and many diagrams in the text. Fawn morocco, back with 5 false nerves decorated with a gilt wolf's head profile, gilt title, place and year gilt on the foot, golden arms on the covers framed by three gilt fillets and a large gilt hunting frieze, alternating links of birds, deers, and hunting dogs, with a she-wolf carrying a wolf pup in its jaws on the four inner corners, double gilt fillet on the cuts, squares decorated with gilt fillets and rollspreceded by a large gilt ddentelle of squirrels and birds in a pampre, gilt edges (Allô).
Good edition of this popular book about wolf hunting, published after either from La Maison Rustique by Charles Estienne, or Théâtre d'Agriculture by Olivier de Serres, as the signatures Aaaaa-Fffff indicate it4, here with a special pagination. First printed in 1566, frequently reissued until XIXth century.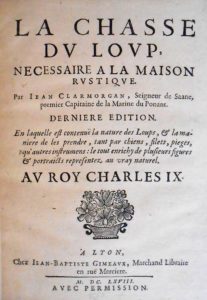 Clamorgan, based on Pline, Aristote and Olaus Magnus, shows the characteristics, uses and customs of the wolf and the medicinal uses of preparations derived from its feces and parts of its body (wolf liver in mulled wine as a cough remedy, its excrement mixed with honey as an ointment against ophthalmic problems, its fat as a treatment for conjunctivitis, the powder of its head against dental pain, its skin as protection against lice, bugs and other vermin, etc…). The author then describes the training of bloodhounds and exposes different techniques of wolf hunting, depicts its wiles and howls and compares his footprints with those of the dog.
The last chapter is dedicated to the wolf trap.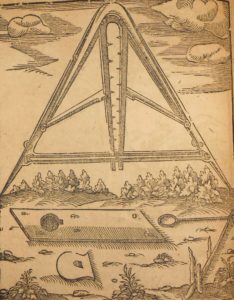 Following the Wolf Hunt Treaty, Admiral Clamorgan, who served in the French navy for nearly forty-five years, exposes from p. 29 to 48 his treatise on La Fabrique de la Jauge, ou Diapason, instrument for estimating how many measurements a circular vessel contains in place, city or country where this Diapason was made. The description of this measuring instrument is illustrated by 9 little woodcuts in the text. This treatise was published for the first time following the edition of 1629.
Royal arms of Charles X, with the Ordre de Saint-Michel and the Ordre du Saint-Esprit, this king who loved hunting so much and gave honour to the venery during his reign.
The tool of the wolf carrying its pup at the corners of the plates of the binding is according to the engraving p. 4.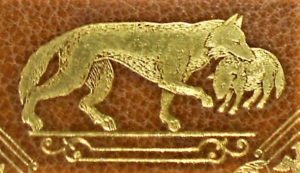 The copy comes from the splendid bibliothèque cynégétique Du Verne – Bernis, vente Sotheby's, 5 Octobre 2016, Paris, n° 55 in the catalogue.
Thiébaud, Bibliographie des ouvrages français sur la chasse, 355 : " Seems to be the same edition as the one published in 1667, in Lyon, chez la Vefve de Jacques Ollier ; only titles are new . "; Souhart, Bibliographie générale des ouvrages sur la chasse, 109.
Uniformly browned quires.
Superb cygenetic binding by Paul Charles Allô with the arms of France.

Sold