Beautiful and moving elegiac poem by Hugo on time and death

Victor Hugo. The Clock. 4 first autograph stanzas [of 6], no place no date [1859]. Only front side on a large strip of watermarked blue paper (15,5 x 42 cm).
on sent les pointes de la bise ;
l'hiver vient. Dans la vieille église
j'écoute l'horloge marcher ;
on dirait que quelqu'un aiguise
quelque chose dans le clocher.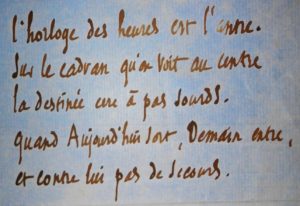 l'horloge des heures est l'antre.
sur le cadran qu'on voit au centre
la destinée erre à pas sourds.
quand Aujourd'hui sort, Demain entre,
et contre lui pas de secours.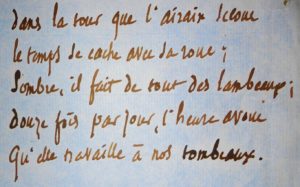 dans la tour que l'airain secoue
le temps se cache avec sa roue ;
sombre, il fait de tout des lambeaux ;
douze fois par jour, l'heure avoue
qu'elle travaille à nos tombeaux.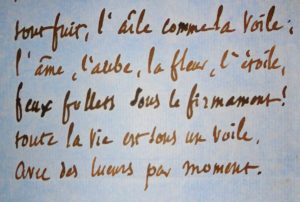 tout fuit, l'aîle comme la voile ;
l'âme, l'aube, la fleur, l'étoile,
feux follets sous le firmament !
toute la vie est sous un voile,
avec des lueurs par moment.
[Ne vous fiez pas à l'aurore,
C'est la minute qui se dore ;
Le lys en un jour est terni ;
L'astre s'en va ; l'âme est encore
Plus en fuite dans l'infini.
Le temps use dans sa logette
Ce qui vit et ce qui végète ;
L'aube, l'astre, l'âme, la fleur,
Sont quatre intécelles que jette
La meule de ce rémouleur.
1859]
Manuscript revised by Hugo's hand of The Clock, poem in six stanzas of five octosyllabic verses, n° 62 from the copy of Chansons des rues et des bois completed by Victoire Etasse on 1st march 1862. The poem, dark and elegiac, denoting with the cheerful and lad character of the Chansons, was one of the fifteen discarded pieces in the collection published in 1865, perhaps reserved by Hugo to be part of the volume entitled Poésies de Jean Prouvaire et chansons de Gavroche that won't be published in the end.
As part of the Reliquats, The Clock is published, without the title, in the Œuvres poétiques, collection of the Pléiade, volume III, Alentours des « Chansons des rues et des bois », p. 235, with the following note: "We only have the manuscript of the last two stanzas; a copy was used to reconstruct the full text ". Indeed, the end of the poem, on the same watermarked blue paper, with the same writing, is in the funds of the National Library of France, f. 62r of the manuscript 24738, « Reliquats des Chansons des rues et des bois ». It is digitized and freely searchable on Gallica : https://gallica.bnf.fr/ark:/12148/btv1b60008184/f125.item.
N° 126 Charavay's sale on 26 June 1986. With certificate of authentication established by Michel Castaing on 17 July 1986.
2 small tears in the head without lack and without damage to the text, small old reinforcement at the fold of the back. Beautiful condition though.
9 000 €