Beautiful and moving elegiac poem by Hugo on time and death

Victor Hugo. The Clock. 4 first autograph stanzas [of 6], no place no date [1859]. Only front side on a large strip of watermarked blue paper (15,5 x 42 cm).
we feel the spikes of the kiss;
winter is coming. In the old church
I listen to the clock walking;
it looks like someone is sharpening
something in the bell tower.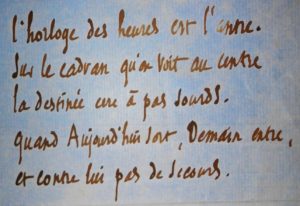 the clock of hours is the lair.
on the dial seen in the center
destiny wanders with deaf steps.
when Today comes out, Tomorrow comes into,
and against it no help.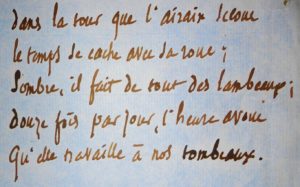 in the tower that the brass shakes
time hides with its wheel;
dark, he makes everything shreds;
twelve times a day, the hour admits
that it works at our tombs.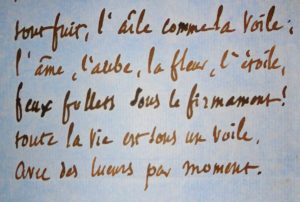 everything leaks, the wing as the sail;
the soul, the dawn, the flower, the star,
wild fires under the firmament!
all life is under a veil,
with glows at times.
[Don't rely on the dawn,
It's the minute that goes golden;
The lily in a day is tarnished;
The star leaves; the soul is still
More on the run in infinity.
Time wears out in its cubicle
What lives and what vegetates;
The dawn, the star, the soul, the flower,
Are four intecelles that throws
The grinding wheel of this grinder.
1859]
Manuscript revised by Hugo's hand of The Clock, poem in six stanzas of five octosyllabic verses, n° 62 from the copy of Chansons des rues et des bois completed by Victoire Etasse on 1st March 1862. The poem, dark and elegiac, denoting with the cheerful and lad character of the Chansons, was one of the fifteen discarded pieces in the collection published in 1865, perhaps reserved by Hugo to be part of the volume entitled Poésies de Jean Prouvaire et chansons de Gavroche that won't be published in the end.
As part of the Reliquats, The Clock is published, without the title, in Œuvres poétiques, collection of the Pléiade, volume III, Alentours des « Chansons des rues et des bois », p. 235, with the following note: "We only have the manuscript of the last two stanzas; a copy was used to reconstruct the full text ". Indeed, the end of the poem, on the same watermarked blue paper, with the same writing, is in the funds of the National Library of France, f. 62r of the manuscript 24738, « Reliquats des Chansons des rues et des bois ». It is digitized and freely searchable on Gallica : https://gallica.bnf.fr/ark:/12148/btv1b60008184/f125.item.
N° 126 Charavay's sale on 26 June 1986. With certificate of authentication established by Michel Castaing on 17 July 1986.
2 small tears in the head without lack and without damage to the text, small old reinforcement at the fold of the back. Beautiful condition though.