Albert DUBOUT (1905-1976). Tarascon believed for a moment his Tarasque returned. Original watercolor drawing . Dimensions of the work: 19,2 x 13,2 cm (on a strong beige paper 23,8 x 18 cm).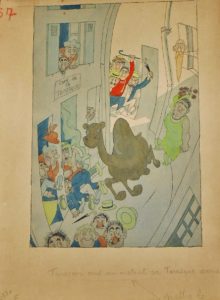 Rare original drawing, with handwritten informations for the publisher : grey pencil legend, followed by a precision unfortunately trimmed: "mettre le ", as well as various references including "57 " in red pencil.
This drawing has been printed, reduced (11 x 16), by Duval process and stencil coloured by Jon and Raynal in Tartarin de Tarascon by Alphonse Daudet, insert, facing p. 206, without the legend that Dubout seemed to hold was preserved.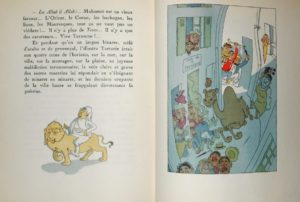 The drawing is accompanied by a copy of the book.
Alphonse Daudet. Tartarin de Tarascon. Illustrations en couleurs de Dubout. Paris, L'Emblème du secrétaire, 1939. In-8°. 218 pp., [1] f. Many colour illustrations in and out of text. Brown half-chagrin bound binding with corners by Capelle, back with 8 false bands, golden title and top edges, grey and blue cover and back preserved.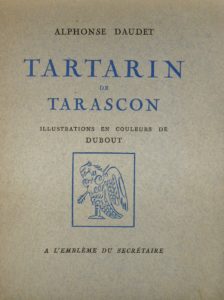 2 000 copies, n° 1436 on vellum Aussedat.
It should be noted that Dubout, born in Marseille, had studied at Nîmes, under 30 km away from Tarascon. The work of Daudet , a native of the same city , could only inspire him , and his drawings are as jubilant as the text.
The binding is slightly scratched, very fresh inside.
900 €