Le Nouveau Testament. Avignon, J.-J. Niel, 1808. In-8°. Fawn basane, long spine, red morocco title-piece, brass clasp, blue speckled edges. Surprising book-box concealing, from p. 19, a ramp of three percussion pistols with round barrels, beading to the mouths and forced bullets, squared triggers.

Books containing weapons have been created throughout civilisations, from the Doge of Venice Francesco Morozini in the 17th century to Western characters such as Robert Mitchum in Henry Hathaway's 5 Cards Stud. However, it is rare to find several barrels fixed to the back plate in this way, with a system of horizontal triggers.
Ex-libris handwritten by H. Tarnisier and by Charles de Laget.
The three hammerheads have been re-soldered and repaired ; the weapon is neutralised (the three cocking springs are missing). The mounting was made in the mid-nineteenth century. Binding restored, headbands faded, heavy glue tears on p. 19.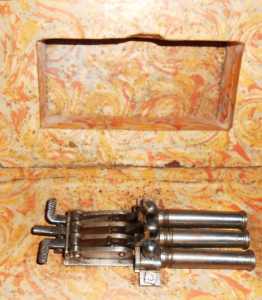 An extremely rare book object.
6 000 €