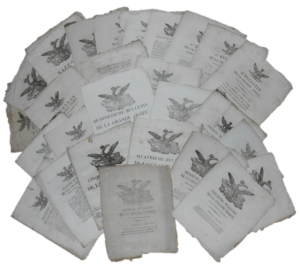 Complete collection of the Bulletins de la Grande Armée during the Russian campaign : 20 June 1812 – 3 December 1812. 29 numbers of the Bulletin de la Grande Armée in the form of posters in-plano (n° 28 and 29 on the same, Beauvais, imprimerie de la Préfecture), and in-folio (n° 8 and 11, Macon, Chassipolet and 27, [Macon], préfecture de Saône et Loire), and with editions in-4° (n° 1-7 and 9-26), with 5 annexes, printed by Chaignieau aîné, printer of the Journal de Paris for which we subscribe, rue de la Monnaie. Great imperial vignette by Besnard.
It was prestigious for a soldier or regiment to be mentioned in the Bulletin. There were also complaints of injustice, and in the army ran the formula: "Liar as a bulletin" (Cf.: Tulard, Dictionnaire Napoléon, 313-314). Metternich believed that these bulletins provided the Emperor an army of 300 000 soldiers. Anyway, the Emperor failed miserably in Russia even with his army strong of 600 000 soldiers, twilight of the Empire. Are reported, among others,, the invasion of Russia, battles including the Moskva, the entry into Moscow and then the burning of the city. The twenty-ninth bulletin, announcing retirement, is the most famous of the series ; it ends with this famous sentence : "The health of S.M. has never been better".
[Annexes, published by Chaignieau aîné :] ● Extrait du Moniteur du 4 Septembre 1812. 4 pp. in-4°. Reports of Davout's victory over Bagration at Mohilev on 23 July 1812 and of Schwarzenberg at Gorodetchna on 12 August 1812. ● Nouvelles de la grande Armée (Extrait du Moniteur du 23 septembre 1812). Poster in-4°. Announces the victory of the Moskowa on 7 septembre. ● Extrait du Moniteur du 12 Octobre 1812. 4 pp. in-4°. Concerning the battles of Borodino and Moskowa. ● Extrait du Moniteur du 29 Octobre 1812. 4 pp. in-4°. Supplement to the 23th bulletin detailing objects found at Voronzof Castle and distributing Russian bulletins on the state of Russian troops. ● Rapports annexés au vingt-quatrième Bulletin (Extrait du Moniteur de 2 November 1812). 4 pp. in-4° printed on 2 columns. Large Imperial Vignette. Reports on the fighting in Krasnoi, Smolensk and Valontino.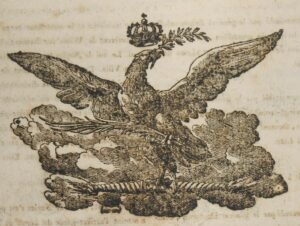 Our Bulletins, intended either to be posted, or to be folded and stuffed into the pocket of a jacket, are as published, uncut, printed on low-quality paper, not intended for preservation, which makes them all the more rare and their condition most fragile, sometimes damaged : foxing, foldings, marginal tears with sometimes some lack of paper in the margin but without any damage to the text, a few rare dark circles.
Rare and precious documents however. In the library of french first Minister Dominique de Villepin, auctioned on 19 March 2008 at Drouot, there were only 17 editions.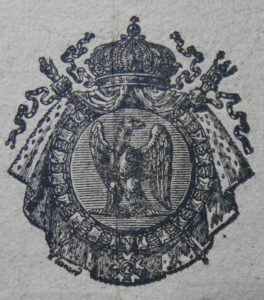 8 500 €