"The lucky adventurer is a hero ; the hero who fails and succumbs is just an adventurer."

Charles René Gaston Gustave de Raousset-Boulbon (Avignon, 1817- Guaymas, in Mexico, 1854), filibuster and adventurer, has made his fortune in San Francisco in 1850 and tried to establish a republic in the Sonora of Mexico, where he was juged and executed by the soldiers of Santa Anna. Important correspondence and many handwritten pieces (93) thumb-indexed in a in-4 volume, half-maroquin cherry with corners of the 19th century (traces of wear on false-bands and corners).
Our collection covers the years 1835 to 1847 and is made of 77 letters (one of which is unbound) with postmarks, addressed to his classmate and friend from Avignon, Jean Baptiste Gonon, Paris or Saint-Etienne, except two to Eric Deleutre, most signed, dated and posted from Paris, Fribourg, Auteuil, Duclair [near Rouen], Boulbon, Avignon, Valence, Alger, Boufarik, Blida, Serres in the Nièvre or Lyon. Among this correspondence, 5 letters are from his mistress Diane de Champie and one of his friend Lodoyx de Mauvesin. 18 only of these letters were used and published in part and redacted in the A. de La Chapelle's book, published by Dentu in 1859 and titled : Le Comte de Raousset-Boulbon et l'expédition de la Sonore, correspondance, souvenirs et œuvres inédites (page 241 and following). These letters are followed by two short new autographs entitled « La Trahison " and "La Bergère ", 16 unpublished autographs of youth poems : Caprice, Désespoir, Adieu, Hymne au soleil, Notre Dame de la Garde, Solitude, etc., a collection of 21 autograph poems on 60 pages (1836-1844) which 4 published by La Chapelle (pp. 279-283), and finally a posthumous tribute by Stanislas de Lapeyrouse, published in the "Feuilleton du constitutionnel".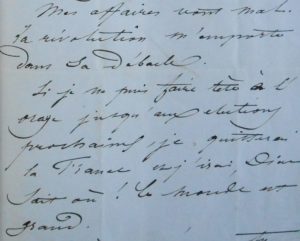 This set of original pieces offers interesting new information about the tumultuous youth of Gaston de Raousset-Boulbon, his personality, his romantic and poetic sensibility, his friendships and loves, some homosexuals, his mystical quest, his pride, his ambition and his deep nature imbued with generosity and a sense of honour ; anyway, they give you an idea of what was fermenting in that heart and in that head". Raousset also describes his colonization projects, its setbacks in Africa, its capital and armaments needs. His friend A. La Chapelle notes that " these are brilliant pages, remarkable for the sublime ideas sometimes, always apropriate, naïve and simple too, which they are full of, not to mention the easy and vigorous style that serves to make them. There are, however, much forgivable negligence in the currente calamo of a college friend writing to his friend […] We've let some of these neglects pass; they take advantage of the painting by serving as shadows, and are further evidence of the character of sincere intimacy under the inspiration of which these letters were written. If not all pieces of poetry are transcendently powerful, it must be agreed unsurprisingly about a student of rhetoric; but there are also those who, written later, while the teenager became a man, have such a cachet , that they proudly walk equals of all that many poets have been able to produce in this kind; certain passages are lyrical beyond which one cannot rise. "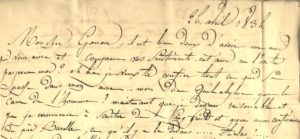 La Chapelle has carefully removed or watered down the ungrateful passages for his friend. "We did cut in this correspondence, he writes, only too personal passages or those that we find unreasing to the reader " (pp. 239-240). He thus overshadows his homosexuality and his feminine loves, his criticism of the Catholic religion, his violent rejection of Lamartine and the romantics, his shady financial affairs, his flight from creditors, his business in Algeria with Bugeaud and Horace Vernet, his primary distrust of the Duke of Aumale, whom he would later be close to, his gun trafficking with California, etc.
Provenance : Victor Smith, judge at the Saint-Etienne court ; he was the custodian of the collection of this correspondence, to whom "we owe this precious communication" (La Chapelle, p. 240).

Complete detailed description of these 93 documents on request.

6 000 €