Jean de Bry (1760-1834), conventional, member of the Five Hundreds Council. Autograph letter signed "J. Debry ", Besançon, on 12 thermidor year 9 [31 July 1801], to "my dear J[oseph] Bonaparte ". 2 pp. in-4°.

Beautiful letter of complaint from the new prefect of the Doubs to his friend, older brother of the 1st Consul and future King of Spain, about the inadequacy of his treatment, including his representation fees. Interesting testimony on the little funding available to the prefect of Doubs and the high cost of living in Besançon during the Consulate.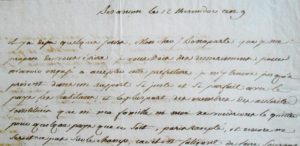 Jean de Bry thanks Joseph Bonaparte for committing him to accept the Doubs prefecture, "I find myself there so far in such a fair and perfect relationship with the country, the inhabitants and most of the members of the incorporated authorities that neither my family nor I would want to leave it for any country, Paris except ". He complains, however, about "the mediocrity of my treatment ", and recalls the promise he had been made to wear it from "twelve to sixteen " louis ; about the hundred establishment train louis that had been assigned to him, "before a month, I'll have spent it 500 for what is here strictly necessary: bread is worth here 5no 1/2 a pound and other produce in proportion ".

Not being rich, honest man, he does not want to act as his "predecessor who saw few people [and who] left ten thousand francs in debt, I'll spend what I have, but I don't want to make any debts ". He recalls the importance of state representation and the costs it incess: "and yet you have to represent, this city has a garrison, a lot of officers, fortunate former nobles and parliamentarians, spending money; the first Magistrate offers a ridiculous appearance if his house is too inferior to that of the others ".

He sees himself ready to write to the 1st Consul "that his goodwill, his very attachment are useless to me, and that about to reap the fruit he promised me, I have to give it up and retire " [Jean De Bry had participated in the coup d'état 18 Brumaire]. He then insists on the merits of his claims, "nowhere they are founded as in Besançon ";

he takes to witness Thibaudeau who came here and who knows the administration [Antoine Claire Thibaudeau (1765-1854), President of the National Convention and then of the Council of Five Hundreds, was then prefect of the Gironde] ; Jean de Bry assures Joseph Bonaparte that his devoted friendship predates the services he asks for, and that there is an emergency : " there's a festival to celebrate in two months, I doubt we find a hundred pistols to make it "; he still insists on his selflessness: "I'm not asking for anything for myself, I don't want to put a penny in my pocket, but when an opportunity requires it, I want to show the man of the government as he must; give real help, and not always words, etc. ".

Joseph Bonaparte had insisted that Jean de Bry accept what was considered, at least in Besançon, as a disgrace: "The consul, he writes to him on 17 May 1801, hopes a lot of your presence in that country; on my side, I won't waste an opportunity, if there is an opportunity, to get closer to Belgium, and what would be better, to Paris. Jean de Bry will remain prefect of the Doubs until 1814. The "festival to celebrate in two months " is the general solemnity that will take place throughout the Republic on 18 Brumaire [9 November] on the occasion of the signing of the peace foreplay between France and England; it will be announced by Jean de Bry in his Address to his fellow citizens made at the Town Hall of Besançon on 16 vendemiaire year X [8 Octobre 1801] and printed in Besançon by Daclin.
Léonce Pingaud : Jean de Bry et Joseph Bonaparte, in the Revue d'histoire diplomatique, Paris, Ernest Leroux, 1887, p. 11.
Few foxing; small strip of paper stuck on the margin on the back, without damage to the text.

Sold