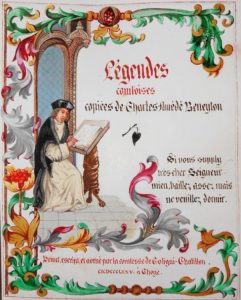 Louise Georgine Elisabeth Nancy de Thoisy, Countess of Coligny-Chatillon. Légendes comtoises, copiées de Charles-Amédé Beneyton, peinct, escript et aorné par la comtesse de Coligni-Chatillon. 1875 in Choye [near Gy, Haute-Saône]. Richly illuminated manuscript. In-8°. 3 blank leaves, [10] pages of dedication to her son, lviij text pages, [2] table pages, 2 blank leaves. Full black Jansenist morocco, back with 4 false bands, gilt title, double gilt fillet on the cuts, richly decorated inner covers, gilt edges, 2 small clasps (cleverly restored binding, a clasp is missing).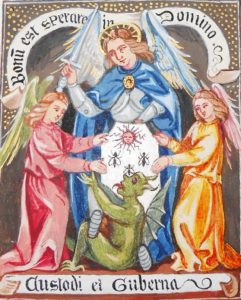 Exceptional manuscript, testimony of maternal love written by Countess Louise de Thoisy, grandmother of Louise de Coligny-Chatillon, Apollinaire's love passion.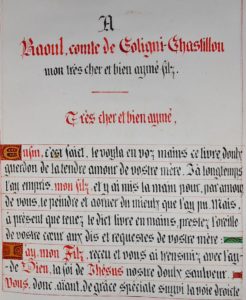 Overwhelming present offered to her son Raoul, Earl of Coligny-Chatillon, by his mother who feels her next death, " ce livre doulx guerdon de la tendre amour de vostre mère ", so that he can pass it on to his children, and so be perpetuated her memory.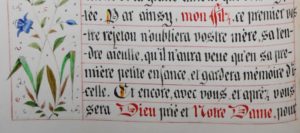 "Je n'ai aorné et peinct cestuy livre pour vous seul, mais encore pour voz filz et voz filles (si Dieu le permet), afin que mémoire soict faicte à jamais, non pas soubs la cheminée du manoir, pendant les devis et caquets du soir, mais pleutôt lorsque vostre femme estant à genouil à costé de vous dans la salle ou la chapelle et vos enfantz, serviteurs et servantes estant agenoillés autour de vous après les prières domestiques, vous adjoutiez à tous jours un De profundis clamevi et aultres oraisons, versets et répons pour le repos de ma paulvre âme et en mémoire de la grand amour que vous ay portée. Par ainsi, mon fils, ce premier vostre rejeton n'oubliera vostre mère, sa tendre aïeulle, qu'il n'aura veue qu'en sa première petite enfance, et gardera mémoire d'icelle. "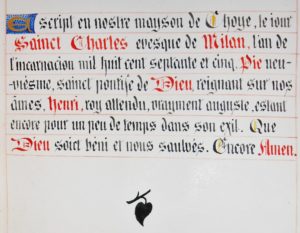 Auguste Donat Raoul de Pillot de Chenecey, Earl of Coligny-Châtillon, born and died at Choye Castle (1846-1917), Infantry officer, was chamberlain of Pope Leo XIII. He had married on 27 November 1872 with Marie Anne Hélène Quarré d'Aligny de Château Regnault, daughter of the Viscount of Aligny. They had a son in 1873, Louis Charles Simon Gaspard. Raoul's mother, Louise Georgine Elisabeth Nancy de Thoisy, born in 1823, the author of our manuscript, is the grandmother of Louise de Coligny-Chatillon (1881-1963), muse and passion of Guillaume Apollinaire in 1914-1915 and who inspired him the fiery collection Poèmes à Lou published only in 1947; Raoul was Louise's uncle.
Superb work entirely handwritten and richly illuminated on vellum skin in the style of medieval manuscripts but with romantic ornamentation in the style of the illuminations by Elisa de Lamartine.
The manuscript follows the three tales : Chroniques, Contes et Légendes by Charles-Amédée Beneyton, published in Paris by Dumoulin in 1854. The three tales are set in Franche-Comté, as the title of the manuscript indicates.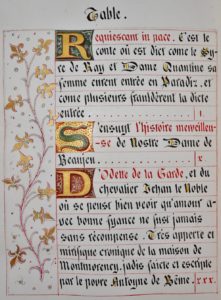 The first tells "come le Syre de Ray et dame Quantin sa femme eurent entrée en Paradis, et come plusieurs frauldèrent ladicte entrée " on the origin of "Re [-Ray]quiescant in pace"; Ray's Castle is located between Gray and Vesoul, in the Saône Valley. The second tells the wonderful and miraculous story of Notre-Dame of Beaujeu; Beaujeu Castle located in the town of Beaujeu-Saint-Vallier-Pierrejux-et-Quitteur, Haute-Saône. Finally, the third "d'Odette de la garde et du chevalier Jehan le Noble, où se peut bien veoir qu'amour avec bonne fyance ne fust jamais sans récompense. Très apperte et mirifique cronique de la mayson de Montmorency jadis faicte et escripte par le povre Antoyne de Bême "; the House of Coligny-Chatillon was linked to that of Montmorency by the marriage of Gaspard Ist de Coligny, Marshal of France under François Ist, with Louise de Montmorency, daughter of Guillaume de Montmorency and sister of Anne de Montmorency, Constable of France. The Countess of Coligny-Chatillon thus reminds her son of the illustrious families from which he came and the great nobility of his blood.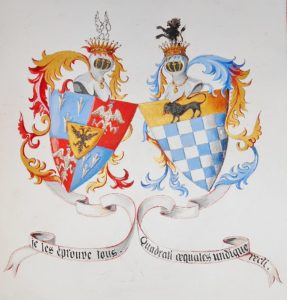 Exceptional and overwhelming.
5 000 €