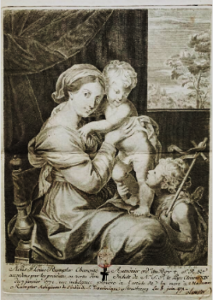 Pierre Mignard (after). The Virgin, the Child Jesus and Saint John the Baptist. Paris, Image St Benoist, no date [XVIIIe century]. Beautiful copperplate engraving signed "P. R.", after the one engraved by François de Poilly ("F. P. ex. c."), 32.5 x 22.4 cm (bowl: 29.7 x 21.8 cm) with 4 autograph lines signed by François-Louis Rumpler, Strasbourg, 8 June 1771. A small movable gilt metal cross has been fixed to the bottom of the engraving by a seal under paper.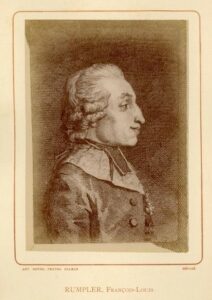 François-Louis Rumpler, canon of Strasbourg, writes : "We, Br. Louis Rumpler, Canon and Ordinary of the King […] hereby grant, in virtue of an Indult of Our Holy Father Pope Clement XIV of 7 January 1771, a plenary indulgence at the time of death to Madame Rumpler, a religious of the Order of St. Dominic. Strasbourg 8th June 1771. Rumpler".
A priest of the Diocese of Strasbourg, ordained in 1756, François-Louis Rumpler de Rohrbach (1830-1806) was Canon of Haguenau (1759-1767) and then of Saint-Pierre-le-Jeune in Strasbourg (1767-1790) as well as Ordinary Chaplain of the Royal House in Versailles (1765-1771). During the Revolution, Rumpler acquired the buildings of the Abbey of Mont Sainte-Odile, the Abbey of Niedermünster (in Ottrott in the Bas-Rhin), the Capuchin Convent in Obernai and the one in Ottrott. As a writer, he is the author, among others, of the Histoire véritable de la vie errante et de la mort subite d'un chanoine qui vit encore, écrite à Paris par le défunt lui-même […] publiée à Mayence depuis sa résurrection, avec la filiation des pièces que sa fermeté a fait naître […] published in 1784, as well as several pamphlets and addresses to Bonaparte.
The Virgin, Child Jesus and St. John the Baptist by Pierre Mignard was magnificently engraved on copper by François de Poilly l'Ancien in the second half of the 17th century. Our engraving, which is modestly inspired by it, differs in particular by the absence of the inscription on the phylactery carried by Saint John the Baptist. It should be noted that the eyes of the three figures seem to have been raised in ink in the past.
Pronounced central fold, seal holding the cross damaged .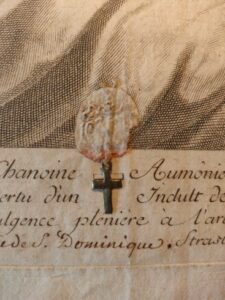 A moving document.
900 €