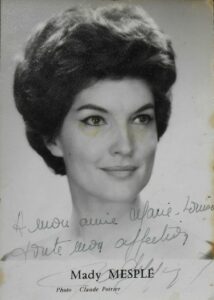 Mady Mesplé (Toulouse, 1931-2020), opera singer. 43 autograph letters or cards signed, Nice, Paris, Vienne, Liège, Toulouse, Lyon, Marseille, Aix-en-Provence, Nantes, Rennes, Saint-Etienne, Les Rousses, and Brueil, 1963-1970, addressed to her "Chère amie" Marie Louise Martin-Gardin, 37, chemin de la Garenne, St. Bris, 33 Pont de la Maye.

"Here a Barber, there a Lucia, my life is spent in theatres and on trains, but I've chosen it and I'm happy about it".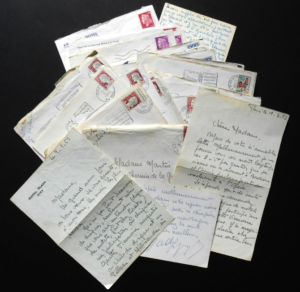 Interesting correspondence addressed to an admirer who over time became her friend, the letters becoming increasingly intimate and affectionate. The singer talks about her national and international tours, her recordings, her frenetic pace of work, confiding in the process her stage fright and her anxieties, particularly at the Vienna Opera and the Aix Festival, her vision of the profession, her great fatigue and even her illnesses, and her difficulties in reconciling her family life with her brilliant career.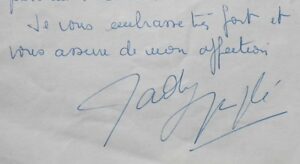 A detailed list is available on request.
1 500 €