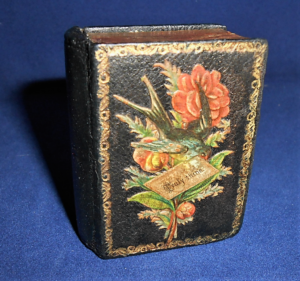 Miniature keepsake shaped box (55 x 45 mm), no place, no name, may 12, 1879. Green shagreen, upper cover framed by a gilt garland, decorated with a chromolithograph representing a swallow depositing, on a red camellia, a card with "Truly thine ", lower flat with, in gold, the editor's mark and the date of registration, back adorned with cold nets, gilt embossed cardboard edges, contreplats in the same way, with, glued to the first, a floral chromolithograph marked "I think of thee ". Inside this delightful object-book, by pulling on a ribbon, unfold in Leporello four cardboard bellows covered with the same embossed gold paper, on which are glued to the front four chromolithographs representing childish-looking girls in elegant dress on a silver background.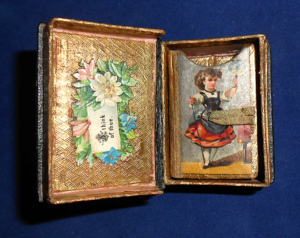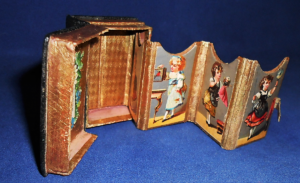 Real little receptacle of love, probably made in England, or even in America; the red camellia of the upper cover symbolizes passion but also nostalgia, romantic love or desire; further, the swallow is associated with love and loyalty ("Truly thine " meaning "Truly yours"). Inside, chromolithographs symbolize sadness (the tears caused by the book dropped on the edge, probably out of boredom of the absent), faithful Love (the bird in a cage), dialogue with the absent (the game with the puppet) and hope (the lamp carried high). Note the delicacy of these chromolithographs, in harmony with the elegance of the miniature book. Each little bellows is just waiting for a strand of hair, a love letter, or a photograph, preciously enclosed with the memento "I think of thee " ("I'm thinking of you").
Except a slight friction on the edges, this delicate and moving object is in excellent condition, in exceptional freshness.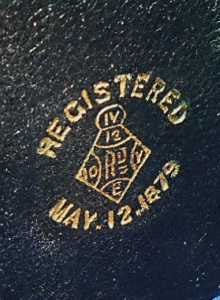 We found no copies of this miniature keepsake.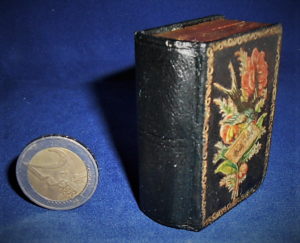 2 800 €