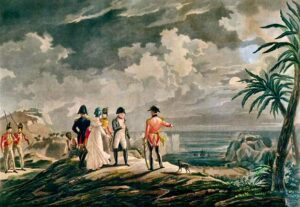 State of the [British garrison]. St Helena. [.]. Saint Helena, 17-29 November 1816. Anonymous manuscript [Superior Officer ?] in-16, in English, . 34 unnumbered pages, written in fine and elegant writing in brown and red ink and completed in grey pencil, as tables or columns, followed by 8 blank leaves. Small sewn notebook (11 x 7 cm), thin outline wrappers, gilt head.
General Staff (Lieutenant-General Lord Hudson Lowe knight of the Order of the Bath, governor, Brigadier General G. K. Bingham, Knight of the Order of the Bath, etc.) ; state of Enginery Sappers, Artillery, Light dragoons, Officers staff, Infantry battalions, medical department, by grade and date of their commissions ; nominative states of craftsmen of differents corps (Carpenters, sawyers, Painters, Masons, Blacksmiths, wheelwrights, gunsmiths, brickmaker, etc.) with, in gray pencil, the officers who employ them ; Nominative and numerical status of sicks, Island military invalids and pensioners…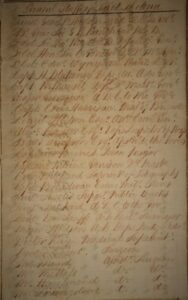 Governor Hudson Lowe feared an escape attempt by his imperial prisoner .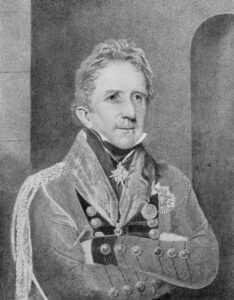 On 15 November 1816, eve of our manuscript, Las Cases writes in his Mémorial de Sainte-Hélène : " for almost two months, the governor keeps stirring the field around us: he digs ditches, builds parapets , makes palisades; he quite surrounded us in Longwood […] they call Longwood and its stable Fort Hudson or Fort Lowe, and the Emperor has looked back Sir Hudson Lowe's ridiculous fears, that we were assured that he would sometimes wake up with a start to dream of new means of safety."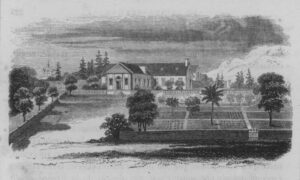 In the middle of our notebook, are detailed for the 28 November, Guards Mounted , with the number of sentries provided by each Guard, and details of the original corps and posts.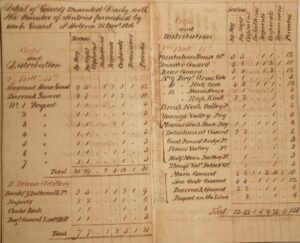 "Detail of Guards Mounted Daily, with the number of Sentries furnished by each Guard. St Helena 28 Nov. 18th. " On 2th Battalion 53th regiment provided to Napoleon's residence, Longwood House, sentries (9 by day, 15 by night), 1 subaltern, 1 sergeant, 3 corporals, 1 drummer, 42 privates, either 72 soldiers!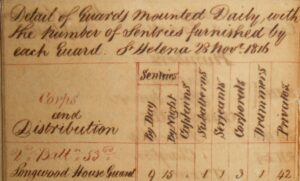 While the 2th Battalion 66th regiment provided only about twenty at Government House, Plantation House : 3 sentries by day 3 by night, 1 sergeant, 1 corporal and 12 privates. All the guard points of the island are detailed.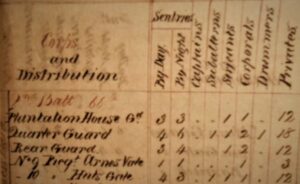 On this day of 28 November, 240 privates were mobilized ! probably due to the arrest of Las Cases with his son, on 25 November, for attempting to smuggle a letter to Lucien Bonaparte out of the island.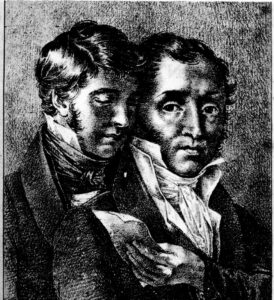 They were housed under guard from 28 November at Ross Cottage, William Balcombe's house.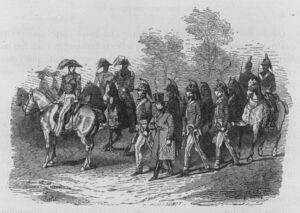 "Today 28, writes Las Cases in his Mémorial, we were taken from our miserable hut and transferred a little league away, in a kind of pleasure cottage belonging to M. Balcombe. […] We were guarded by a detachment of the 66th; A large number of sentinels watched over us and defended our approaches.. An officer was at our command. " The only substantial detachment from the 66th, 38 men and an officer, is at "Main Guard ". Napoleon tried to save Las Cases through Dr. O'Meara, in vain. The Earl will embark on 30 December to the Kingdom of France, leaving his Emperor forever.
The two central pages are browned, probably due to exposure, as suggested by two traces of glue and a thin strip of Japanese paper on the wrapper ; petites fentes au dos de la couverture.
Exceptional document.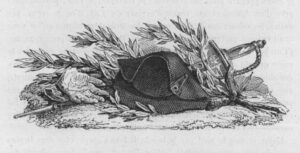 7 000 €