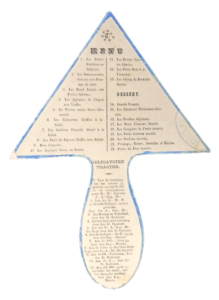 Menu [with] Obligatoire Toasten [Toasts of Obligation in Flemish]. No place, Leroux & Co, no date [end of XIXth]. Printing on fine cardboard in the shape of a trowel (18,5 x 13,5 cm) ; under the symbol of the moon and the sun, the text is in French on two columns on the blade and then in Flemish on the handle, with borders enhanced with blue watercolor, and the printer's blue stamp.
Rare Masonic banquet menu in the shape of a trowel, offered at the inauguration of a Masonic temple probably in Belgium, the menu being in French and the obligatory toasts in Flemish with the Masonic abbreviations, one of them, the 3th, to the King and the Fatherland.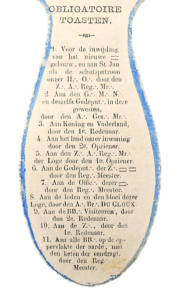 The Menu, pantagruelique as usual, offers 22 foods, including sautéed Brussels Sprouts (n° 13) and decorated Wells of Love (n° 17), charming nod to Freemasonry. Note that the wines are not specified, while the 11 ritual toats are perfectly detailed…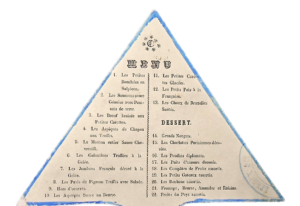 There is a H. Leroux printer, in activity 1839 in Liège, Brussels and Mons.
Tiny lack of paper at the lower left tip of the trowel without damage to the menu.
Excellent condition, very rare.
Sold