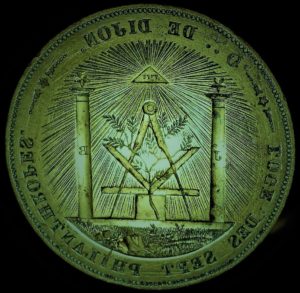 Lodge of the Seven Philanthropists. O[rient] of Dijon. Original seal in bronze of the Lodge with an ivory handle, [around 1832]. Dimension 13,5 cm high and 4,6 cm diameter.
Valuable matrix of . cncient Lodge located in Dijon; founded in 1831,e had edited his regulation the next year (Règlement de la [R.espectable Lodge] des Sept Philanthropes, à l'Orient de Dijon, pour être soumis à l'approbation du Grand Orient. [Dijon, Carion], 5832), and e ceased its meeting in 1840.
Original sealth . the Lodge, delicately and finely engraved . masonic symbols : compass and square, columns, . luminous delta, cubic stone, acacia trees, etc.
Exceptional piece, in remarkable condition, testimony . the old vitality of the Dijon Masonery during theJuly Monarchy.
2 000 €