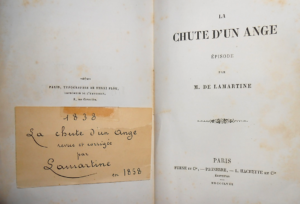 Alphonse de Lamartine. La Chute d'un ange. Episode. Paris, Furne et Cie, Pagnerre, L. Hachette et Cie, 1858. In-8°. 420 pp., [8] pp. [author's general catalogue]. Sewed, uncut, yellow wrapper.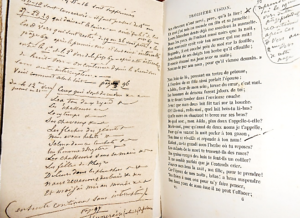 The working copy completely and extensively revised and corrected by the hand of Marianne Elisa de Lamartine, the one that was used to edit the Œuvres complètes . 1860 (volume XVI, Paris, chez l'Auteur, 1861), last edition published during the poet's lifetime.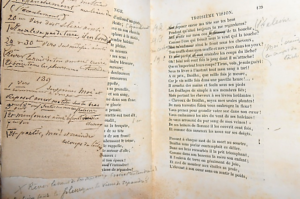 Corrections are first noted in pencil, then mostly taken up in ink on glued leaflets, for clarity for the editor. One of these leaflets is with the embossed cypher of Marianne Elisa de Lamartine.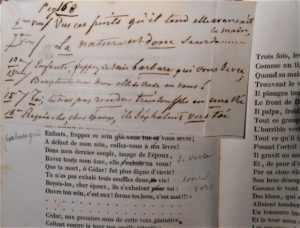 La Chute d'un ange, written in 1836-1837, work of romantic inspiration par excellence, was published by Gosselin in 1838 and known several reissues revised and corrected (1839, 1840 and finally 1860).
Some passages (such as the Chœur des cèdres or the Fragment du livre primitif) make Lamartine among the great epic writers of our literature.
This volume is a reprint of Volume VI of the edition of 1845 in 8 volumes of Œuvres complètes de M. de Lamartine, Furne, Pagnerre et Hachette, as evidenced by the false title and the mention "fin du tome sixième" at the foot of page after the Epilogue.
Some stains ; the cover has tears without missing, some dog-eared pages..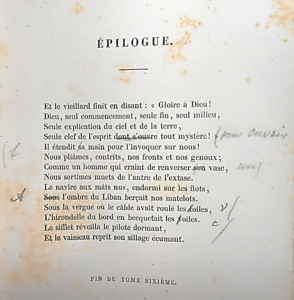 This unique copy is a precious witness to the help given by the poet's wife in his revision of his works..
Sold