Alphonse de Lamartine. Daguerreotype by Louis Auguste Bisson, Paris, [around 1841]. Photographic print (9,7 x 7,5 cm), with passe-partout (13,5 x 12 cm), the photographer's embossed stamp with his label on the back. Benjamin Elbel's box and slipcase.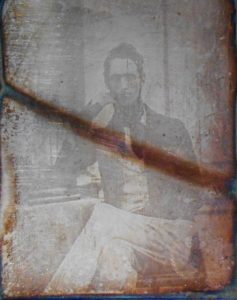 The label indicates: « Portraits au daguerréotype, à l'ombre, à l'intérieur et en quelques secondes par L. For. Bisson fils, Rue St Germain l'Auxerrois, 65, près le Pont neuf, à Paris ».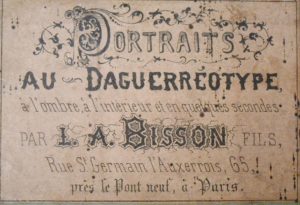 Louis Auguste Bisson (1814-1876) was probably formed by Daguerre himself, the inventor of the daguerreotype in 1839. As soon 1841, he settles down with his father, Louis François Bisson, in Paris, in a workshop at the 65 rue Saint-Germain l'Auxerrois and succeeded in his first daguerreotype portraits, including that of Balzac in 1842. Improved break time ensures large orders. As the label indicates, which appears to be the oldest referenced and which specifies the installation time "in a matter of seconds", our portrait dates from the very beginning of the photographer's installation ; on the other hand, "in addition to serving the sciences, daguerreoticism also seeks to celebrate political figures by constituting veritable iconographic archives. From 1841, all of the 900 members of the Chamber of Deputies and the Senate are required to be portrayed by the Bissson brothers. " (M. Frizot, Nouvelle Histoire de la Photographie, Larousse, 2001, p. 47). Lamartine was Deputy for Saône-et-Loire, so he had to, like his colleagues, pass in front of the photographer's lens. Recognisable by its characteristic black lavallière, his waistcoat and loose-fitting coat, his tall, skinny physique with angular face with dark eyebrows, to his lips and his thin hands, her hairstyle with a light top, finally, his pose, elbow on books, that recalls his status as the great poet of his generation, Lamartine is captured here, a few years before the revolution that brought him to power in 1848.
This portrait is unique and very rare ; only painted and engraved portraits of the poet circulated at the time. As for the exceptional nature of this daguerreotype, it dates back to the beginnings of this technique, by a master who has marked the history of photography and portraiture, at the very beginning of his artistic activity.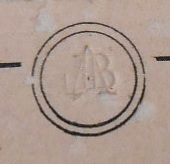 Oxidation due to a crack in the glass (that was removed), daguerreotype is not broken ; small wetting at the passe-partout.
Price on request