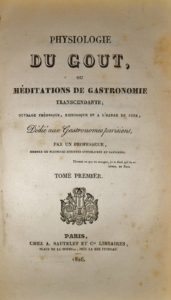 [Jean-Anthelme Brillat-Savarin]. Physiologie du goût, ou Méditations de gastronomie transcendante ; ouvrage théorique, historique et à l'ordre du jour, Dédié aux Gastronomes parisiens, par un professeur, membre de plusieurs Sociétés littéraires et savantes. Paris, For. Sautelet et Cie Libraires, 1826. 2 parts in 2 volumes in-8°. xiv, 5-390 pp. ; 442 pp. Half-green calf, back with 5 false bands decorated with cold toons and gilt fillets , fawn-coloured morocco labels , black morocco volume numbers, marbled edges. (Contemporary binding).
One of the most famous gastronomic works.
"Rare and highly sought-after first edition" according to Oberlin, who states that "this first edition, anonymous, was printed at the author's expense 500 copies only, and put into trade as early as December 1825. Brillat-Savarin did not enjoy the success of his book, because he died just two months after the sale, on 2 February 1826, without knowing it was going to become a classic. " First printing copy, with an "E" of "Bourse" on the title-page horizontally placed , and , in the second volume 2, the p. 45 numbered 49 and the paging 49 printed on the left.

Famous gastronomic work "that earned the author the glory of passing on to posterity" (Vicaire). "The original edition of this book is rare. The text has become a classic of the table, undisputed, filled with verve and good humor. The former magistrate who wrote it owes his fame to this one work whose aphorisms are known all over the world." (Carteret).
From the library of Baron Joseph-Etienne Alphonse of Ruble, with his ex-libris printed on the 2 volumes with his initial " R. " surrounded with his motto " bona fide sine fraude ", with library label "Paris B 42". Alphonse of Ruble (Toulouse, 1834-id, 1898), member of the Academy des Inscriptions et Belles Lettres, historian and essayist, baron of Irish origin, inherited his uncle's library in 1877, 444 rare books. Member of French bibliophiles, he was appointed to prepare for the World's Fair 1878 (Ancient arts).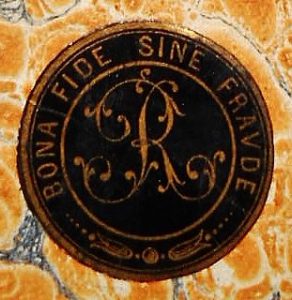 G. Oberlé, Les fastes de Bacchus et de Comus, n° 144 ; G. Vicaire, Bibliographie gastronomique, 116 ; Carteret, Le Trésor du bibliophile, I, 146.
Few foxing as almost always in the original edition, binding skillful restored, green very darkened, faded gilt fillets, some repainted.

Rare copy in its contemporary binding.
4 500 €