Gustave Courbet (1819-1877), painter. Autograph letter signed "Gustave Courbet", [Paris], 32 rue Haute-Feuille, 26 July 1869, to "mon cher Carjat" [Etienne Carjat (1828-1906), famous photographer, journalist, caricaturist and poet]. 2 pages in-8°. With autograph address on reverse "Monsieur / Etienne Carjat / Photographe / 10 rue Notre dame de Lorette / Paris", stamp and postmark. Below the address, another hand has written: "Agostina / 16 R Duperré".
A splendid unpublished letter in which the artist falls under the spell of a beautiful unknown Italian woman and, inspired and enthusiastic, talks about his creative process. A fine example of a period of psychomotor excitement characteristic of a manic-depressive Courbet (see the article by A. Portier, "Clinique des variations de l'humeur chez Gustave Courbet à la lecture de sa correspondance" in Y. Sarfati, T. Schlesser and B. Tillier, La correspondance de Courbet – 20 ans après, Les Presses du réel, 2018, pp 249-264.)

During an evening at his friend's house, he suddenly fell into ecstasy in front of an Italian woman standing discreetly in a window embrasure. His eyes acted "like two tubes of a pump, pumping and sucking; I flooded myself with pleasure by drawing from the reservoir of an Italian lady […] Once my heart was full, I left your house like a drunken man, cars were indifferent to me, the pavement was light to me, it seemed too short to me, I was painting."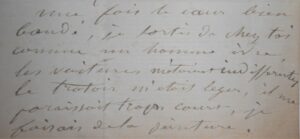 Enthusiastic about this stranger, he wanted to paint her and "to come to my point, if you could take her away from the flaneurs and parasites for a few days, I think I'd do a nice painting with her, and it would be so much taken from this enemy's time". He offered to take her to lunch the next day.
Gros-Kost, in his Souvenirs intimes sur Courbet, notes that his "head […] was like a privileged place where lines and nuances were stored up to emerge in resplendent compositions when he evoked them".
Here is Carjat's reply (Papiers de Courbet, BNF Estampes et photographie, P 127878). :
"My old Gustave,
The little Italian girl in question is called Melle Agostina or, if you prefer, Augustine in French. She is the mistress of a friend of mine, young Edouard Dantan, the sculptor's son, which means that I cannot interfere directly in this affair.
However, as the pretty girl poses for all the painters who can afford to pay her generously for her sessions, write to her in no uncertain terms, on my behalf, if you like, as I think the signora counts me among her friends, and deal with her on this little studio affair.
If you want more, ask her to be at Dinochau's on Friday morning at 11 o'clock on the pretext of saving her an errand – she lives at 16 rue Duperré – and if my feeble galoubet can be of any use to you in persuading her to pose in a less official way, I will play my little tune just like any other, you have no doubt.
On that note, write to the diva, and see you on Friday, unless I hear otherwise from you. (…) "
Missing from Correspondance de Courbet, Flammarion, 1996, as well as P. Ten-Doesschate Chu, Courbet, épistolier – 24 lettres inédites, Dijon, Les Presses du réel, 2017 and Courbet en privé, Correspondance de Gustave Courbet dans l'Institut Gustave Courbet, ed. du Sekoya, 2019.
Some tears and small lack due to unsealing, without damage to the text, small holes to a fold with damage to only one letter.
The beautiful unknown is Agostina Segatori (Ancône, 1841-Paris, 1910), an Italian model who posed for her lover Edouard Dantan, Jean-Léon Gérôme, Jean-Baptiste Corot, Édouard Manet and Vincent Van Gogh, of whom she was the mistress. She also ran the café Au Tambourin, frequented by painters, writers and art critics, where she exhibited the works of her friends, including Van Gogh.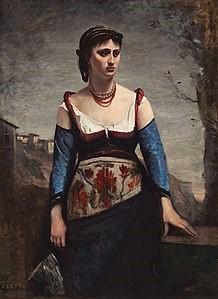 Did Courbet paint a portrait of Agostina? Did he depict her in "Rêverie tzigane", painted in 1869? Wouldn't the sensual, fierce bohemian side herald the model's passion for the tambourine, the name of her future café and the instrument of choice for beautiful gypsies like Carmen?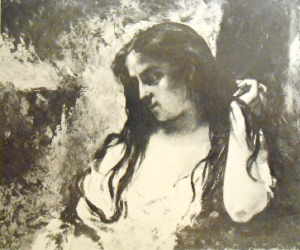 The work, no. 663 in R. Fernier's monograph on Courbet, is kept at the National Museum of Western Art in Tokyo.
Etienne Carjat was very close to the painter, of whom he took many photographic portraits, about ten between 1862 and 1870. Courbet wrote to him from Saintes in 1863: "Mon cher Carjat, je t'aime comme tu sais, tu es mon confidant d'amour, tu es mon photographe, tu es mon biographe, tu es mon ami." (Courbet selon les caricatures et les images, Paris, Rosenberg, 1920, p. 50); the photographer paid him tribute: "For him, art is the truth / Rising from the well naked, / The naive sincerity / That only the masters have known" (Paris illustré, 1870).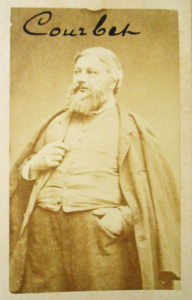 With a rare original photograph of Courbet taken by Carjat at the time of the letter, on albumen paper, business card size (9.1 x 5.3 cm), mounted on card, annotated on the letterhead "Courbet" in ink, and on the reverse, handwritten: "Courbet Gustave. From 48 to 50 years old. Tall, fat, stooped. Difficulty walking because of back pain. Long greying hair, mocking peasant look, rather poorly dressed".
Traces of glue slightly altering the text.
Exceptional unpublished letter with an unusual photographic print.

12 000 €