[Dummy collection about the House of Orléans] ● Louis-Antoine-Philippe d'Orléans, duc de Montpensier. Mémoires. Paris, Baudouin frères, 1824. In-4°. xv, 1 white, 207 pp. [Bound together:] ●● Louis-François Gamache. Récit de la translation de Louis-Philippe-Joseph duc d'Orléans, des prisons de Marseille, à la Conciergerie de Paris, in 1793. Paris, Gaultier-Laguionie, no. date. [1827]. In-8°. 14 pp. [Bound together:] ●●● Notices biographiques des princes et princesses de la Maison d'Orléans. Notices extraites de la Biographie des Contemporains. Paris, Plassan, 1824. In-4°. 150 pp. The 3 copies are large margins. Half cherry leather of Russia , romantic back with 3 false bands, gilt titles "Mémoires du duc de Montpensier" and "Notices biographiques". (Contemporary binding).
Mention is made of the difficult conditions of detention in Marseilles of his aunt, his two brothers and his father Philippe-Egalité with his transfer to Paris, his trial and execution. Then, in fine, bringing together the members of his dear and glorious family in a real album, the illustrated biographies of his then deceased parents and brothers, of his sister, of his wife and finally of himself.
Mémoires. First public edition, with a portrait of the author drawn by himself and stipple engraved (cf. Tourneux, n° 21610).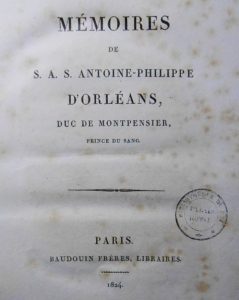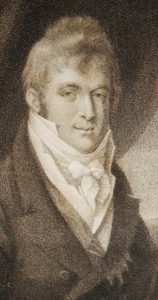 The Mémoires by the duke of Montpensier (1775-1808), younger brother of Louis-Philippe, were first published in 1816 under the title Relation de la captivité… pendant les années 1793, 1794, 1795 and 1796, printed on the private presses that this prince had in Twickenham in England. He says his 43 months of imprisonment in Marseilles in the company of his father, his brother, his aunt and the Prince of Conti, the moving separation from his father and the terrible announcement of his execution, his own escape attempts, etc. Inclosed in our copy : 3 mounted plates, engraved by Motte and watercolored at the time, based on original drawings made by the author during his captivity. (quire b duplicated).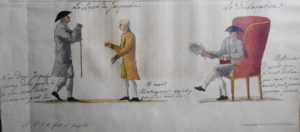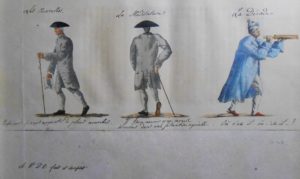 Récit de la translation… Original edition of this text written by the valet of the Duc de Montpensier, then in the service of Philippe-Égalité, telling the transfer of this prince, under the Terror, from Marseille prison to Paris where he was guillotined (cf. Tourneux, n° 21564).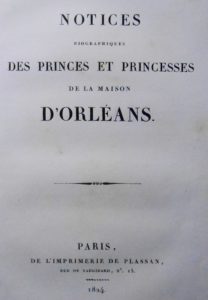 Notices biographiques… First separate edition, from the fifteenth volume of the Biographie des contemporains, with 7 folded out of text portraits engraved by Couché fils.
Elegantly bound copy, from the library of King Louis-Philippe on the Palais-Royal, with his stamp on the title from Mémoires (II, 1852, n°2002).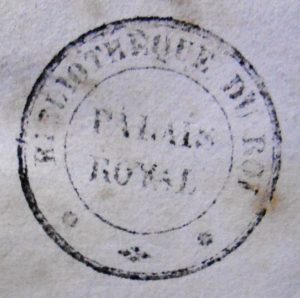 Stains, upper joint a little marked.
Precious and moving copy.
1 700 €