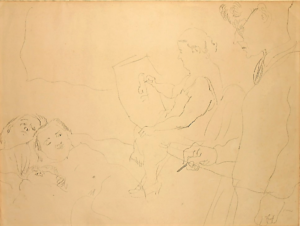 Julius Mordecaï Pincas alias Jules Pascin (1885-1930). Time for Sketches – Germaine Eisenmann ["Pierre Dubreuil and 3 Models " (added by another hand)]. Pencil on paper, signed lower right and titled on the back by the artist followed by "drawing by Pascin / made Villa des / Camélias / in 1930 "; framed under glass. Dimensions on sight : 46 x 61,5cm.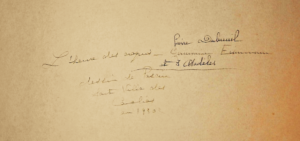 Facetiousness by Jules Pascin, "the Prince of Montparnasse", drawn a few months before his suicide, representing Germaine Eisenmann seated in profile, drawing a phallus, as she was drawing three women voluptuously stretched, the one on the right addressing a complicit wink to the spectator through the artist, sitting next to Pierre Dubreuil. Note his remarkable portrait, as well as the study on the shortcuts of the three models, Pascin showing vivacity and safety in the line, while maintaining a rare elegance.
Lucy Krohg, his mistress, had rented in 1929 a painter's studio porte de Vanves, villa des Camélias, in order to keep Pascin away from Montmartre. His friend André Salmon describes the life of the studio: "Young white women and two black women, always the same, were chatting, appeared or nibbled, until the painter observing them, suspended the movement of one or all of them at once.". Further, he pays tribute to the artist: "Jules Pascin was also a portrait painter, portraits of writers and artists his friends. […] [Il] drew a lot […] Some of his drawings are of a bolder invention than that of canvases. Infinitely of mind (not to be confused with humor) tempers what the theme could have of scabrous. " (Bénézit, Dictionnaire (édit. 1976), t. VIII, pp. 145-146). Pascin said : "Why is a woman considered less obscene seen back than of face, why a pair of breasts, a navel, a pubis are they still considered indecent today, where does this censorship come from, this hypocrisy? From religion? " Probably he thought just as much about the phallic drawing that his friend Germaine Eisenmann sketched…
Pascin committed suicide on 2 June 1930, beset by doubts about his figurative style, to Picasso's cubism and surrealism, Braque and Miro. He wrote to Lucy, shortly before taking his own life : "I'm a mackerel, I'm tired of being a pimp of painting… I no longer have any ambitions, no artist pride, I don't care about money, j'ai trop mesuré l'inutilité de tout. » Notre dessin, " L'Heure des croquis", would he not be an ultimate and derisory snub to this life that he was going to leave?
More than a thousand people will follow the funeral procession to the Montparnasse cemetery; many art galleries in Paris will have closed their doors as a sign of mourning.
His works are kept in the main museums of the world.
Germaine Eisenmann (1894-1970), pupil of Humbert, had met Suzanne Valadon in 1921, who revealed her to herself and of whom she was the pupil and friend. (Bénézit, IV, 134). André Hutter, Suzanne Valandon's second husband, and Jules Pascin made magnificent portraits of her.
Pierre Dubreuil (1891-1970) is a French painter and engraver, pupil of Matisse, whose work is located on the border between figurative and abstraction. He and Jules Pascin had met in Montparnasse and had forged friendship. His paintings and engravings are kept at the Museum of Modern Art, at the Petit-Palais, and the British Museum. (Bénézit, III, 694).
1 800 €