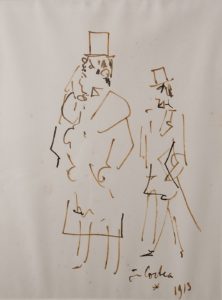 Jean Cocteau. [Diaghilev et Nijinski] [Дягилев и Нижинский]. Sketch in ink, signed and dated " 1913 ". Dim. 26,5 x 20,5 cm. Framed, golden frame.
Exceptional drawing to our knowledge unpublished.
1913 is the year of the creation of the Rite of Spring, ballet composed by Igor Stravinsky and originally choreographed by Vaslav Nijinski for les Ballets russes of Serge de Diaghilev. The work was created at the inauguration of the Champs-Élysées theatre, in Paris, on 29 May, conducted by Pierre Monteux. A true "Battle of Hernani", it caused scandal and profoundly revolutionized the musical and choreographic aesthetics of the XXth century.
We know other Cocteau's drawings depicting the two lovers, but not in the year of the Rite. The poet was able to schow with finesse the contrast between Diaghilev's overwhelming personality, full of superb in his stuffed collar coat, with a triumphant monocle, and the introverted nature of Nijinski, in city frock coat. The couple were to separate during the summer, after the choreographer got married on a tour of South America.
Cocteau had been closely linked with Diaghilev since 1910. He had written the few lines of the Prélude à l'après-midi d'un faune in 1912, and , in 1917, Diaghilev will commission him the text of Parade, one-act ballet composed by Erik Satie, scenery, costumes and stage curtain by Pablo Picasso, choreography by Léonide Massine, created the 18 May 1917 at the Théâtre du Châtelet in Paris. Another scandal…
A few tiny foxing and minor accidents in the frame. Sketch of the most precious.
5 500 €