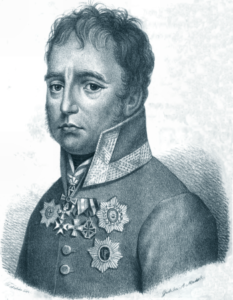 [François I, Emperor of Austria]. Johann Nepomuk Freiherr von Prochaska (ou Prohaska) (Vienna (Isère), 3 July 1760 – id., 24 April 1823), Marshal-Lieutenant of the Austrian Empire, hero of the revolutionary and imperial wars against France. Letters of nobility, awarded in Vienna on november 9 November 1820, from Emperor Francois I of Austria, with his signature. Superb in-folio manuscript on parchment, 1 white leaf , and 11 unnumbered lined leaves, in a rich baroque frame engraved by F. Maÿer, dated 1757, including a beautiful full-page painted coat of arms, enhanced with gold and silver and topped with the Imperial Eagle. Under cardboard covered with red velvet, gold and black lacs, blue endpapers. 31 x 37, 5 cm. With a handwritten page [autograph?] double sheets in-4 where the Baron's decorations are listed, followed by a drawing of his future arms [?].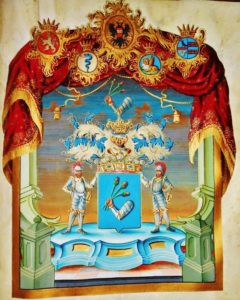 Exceptional document, calligraphic masterpiece, and beautiful painted arms.
Major on June 30 June 1793, Johann Freiherr von Prochaska fought battles of Landrecies, Guise and Saint-Quentin under the eyes of the Emperor of Austria in 1794, and to defend the threatened position on the Waal in 1795. For his value in military fight, he was appointed lieutenant-colonel on February 29 th 1796 ; he becomes chief of general staff, Generalstabchef de l'Oberrhein-Armee, in the Army Corps of the Feldzeugmeister Count Baillet Latour, où il se distingue à Friedberg et à Bischofsheim contre Moreau le 21 th April 1797. In 1799, Quatiermeisterstab of Lieutenant Earl of Bellegarde, il fait la campagne d'Italie où il est blessé à Bormida, at the Battle of Marengo, in 1800. He was appointed to Colonel on August 31 August. The following year, he successfully sets on foot an imperial auxiliary army kurpf-lzisch-Bavarian. Appointed major-general on September 1st septembre 1805, then Feldmarschalleutnant on May the 27 May 1809, il est nommé chef d'état-major à l'armée d'Allemagne, and commanded a division of Grenadiers at the Battle of Wagram on 6 July 1809. From 1813, he is as "Director General" for the supply and reconstruction of the army on war zones; he is General-Intendant of all Austrian armies for the military campaigns from 1813 to 1815, then colonel-lodger of the 38th Infantry Regiment in 1815. Immediately after the war, he was appointed to the War Council and, in 1816, Chief of the General Staff Superintendent, Generalquartiermeisterstab, position he held until his death in 1823.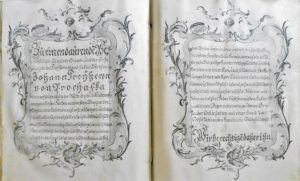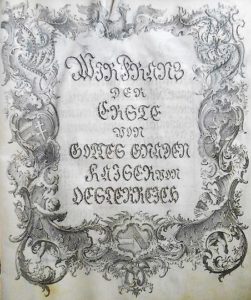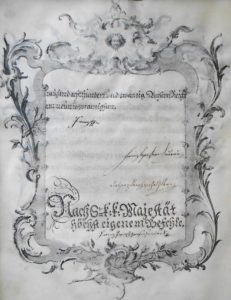 Baron Prochaska was decorated with the
Knight's Cross of the Army of Maria Theresa (11 May 1796)
Knight's Cross of the Austrian Order Leopold (1st June 1814)
Russian Imperial Medal of St. Anne 1st Class (December 1813)
Prussian Red Eagle 2nd Class (April 1814)
Grand Cross of Civil Merit of the Bavarian Crown (June 1814)
Grand Cross of the Lion of Baden (1815)
Commander of military merit of Wurttemberg (1800-1801)
References: Kudrna, Léopold : Biographical Dictionary of all Austrian Generals during the French Revolutionary and Napoleonic Wars. 1792-1815., P. 51.
Markings of yellow ribbon on the covers, skillful restoration to binding ; inside is in very good conditions , splendid coat of arms in a rare state of preservation. Tax stamps and control on the firts pages.

3 500 €