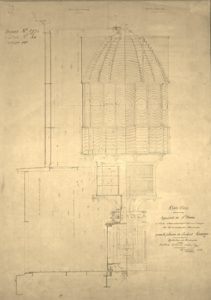 Lighthouse St. George Reef, Californie. [Technical plan in half vertical cut of the lantern of St. George's Lighthouse]. No place, 14 septembre 1886. Drawing in watercoloured China ink (68 x 48 cm.) of the focal plane of the lantern, with the words "Dessin n° 2970/ carton n° 84/ catalogue page " top left and "Etats-unis/ Appareil de 1st ordre/ à éclats alternativement blanc et rouge de 15 secondes en 15 secondes/ pour le phare de Saint-Georges/ révolution en 4 minutes/ échelle de 0.10 in 1 mètre (1/10th)/ 14 septembre 1886 " lower right. On the back, is "2970 // 84 " printed, and , in pencil, a rough lens sketch [?] followed by the number "51 ". Modern frame in lasewood and cord.
This lighthouse, one of the greatest challenges in the history of lighthouse construction in the United States, was put in operation on 20 Octobre 1892. Located on one of the reefs near Crescent City, Del Norte County, California, it's a cylindrical tower, with gallery and lantern, whose focal height is at 45 m above the water line. The construction lasted from 1883 to 1891. The lighthouse was finally operational 1892, after the arrival of his lantern made in France ; total construction expenditure made it the most expensive lighthouse ever built in the United States.
Its Fresnel lens 1st order, . 2,4 m, was been removed in 1983 to be exhibited at the Del Norte County Historical Museum in Crescent City. In 1996, the management of the lighthouse was transferred to the St. George Reef Lighthouse Preservation Society, that carries out the necessary restoration work as well as helicopter visits to the site.
It is listed on the National Register of Historic Places since 1993.
A few tears without lack or damage to the drawing (small on the margin and a little more in the upper right corner).
2 500 €