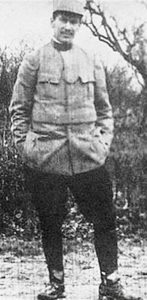 Louis Pergaud (1882-1915), writer. Autograph letter signed "Louis Pergaud ", [Verdun], wednesday 3 March 1915, to his " dear master and friend » Lucien Descaves. 4 pages in-12. Autograph envelope with the address "Monsieur Lucien Descaves / 46 Rue de la Santé / Paris" and in the left corner, also autograph, "Envoi de / Louis Pergaud / adjudant 1st Baton / du 166th d'Infth Verdun ". With blue stamp of the postal service of the 166th Infantry Regiment.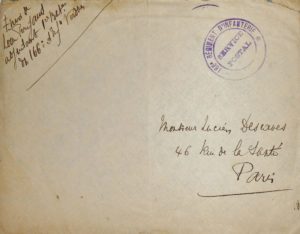 Long and moving letter from the front, unpublished, written a few weeks before his death (on the night of the 7 at 8 April) to Lucien Descaves (1861-1949), writer, founding and influential member of the Goncourt Academy that crowned Pergaud's first work, De Goupil à Margot. He was the dedicatee of La Revanche du Corbeau. The two writers were very frindly.
Louis Pergaud talks about the difficult living conditions of the Poilus, his health sometimes failing, but above all his will to win, his good morale despite a certain weariness, and his life in the trenches, punctuated by evenings with friends. Less anti-militarist than he was at the beginning of the war, however, he is still as anticlerical, comparing "these pigs of Boches " to pope's crabs!

"The existence of battalion warrant officers offers less colour and picturesqueness than trench life, but it has its advantages especially when you feel vaguely exhausted by 5 months of paddling in the silt and in the … sewer as the Poilus say. "
He feared he had typhoid fever. : " I was coughing, I was sweating at night, I had headaches, muscle soreness, diarrhea, fever: 38°2 ". It was just an old bile and old fatigue; a good purge put him back on his feet "and here I am again with the flowery complexion, a hunting dog appetite, drinking dry and peeing clear. "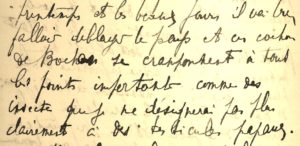 Since 4 or 5 days, he recovers his health quickly, predicting an upcoming offensive : "I may soon need all my strength, with spring and sunny days it will be necessary to clear the country and these pigs of Boches cling to all the important points like insects that I will not more clearly designate to papal testicles. " The morale of the troops is excellent and he talks about the blaze of glory of Sergeant Major Clairon from the 11th company, who, with 3 volunteers, seized without suffering losses of a pennant that the Germans had placed as a defiance behind the barricade of Marchéville: "We had a little action around that the newspapers talked about at length and it gave confidence to everyone except the naturally boches who had to find the trick nasty.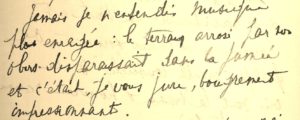 I never heard more rabid music: the ground watered by our shells disappeared into the smoke and it was, I promise you, staggering impressive . " He expects "without haste or fever " his appointment as a deputy lieutenant. [He will be promoted the next day]. His life in the trenches, however, is not to be complained about; "my neighbors the artillery officers consider me a friend and I spend with them at their table which is good, pleasant hours. Infantry is more reserved, except for the great chefs of which the colonel [Charles Desthieux de Fournoux] who actively shows me his sympathy.

Although the country has suffered badly it is very easy to refuel in everything and the ordinary often rises from some old bottle "of this wine which France is proud of" as Verlaine would say. " He is, however, tired of "the continence to which we condemn the harsh morality of our governor" [Henri Coutanceau (1855-1942), General of Division. He had written on the front door of the fort of Verdun: "Burying yourself under the ruins of the fort, rather than surrendering". The "pudishgod ", as Pergaud calls it, was nicknamed "The Bolt"]. The writer finally talks about Colette journalist: "Did I tell you the good story that happened to Colette coming to V[erdun] see her husband? If not I'll tell you in s[o]m[e] next letter. She had gone to see her husband Henri de Jouvenel in Verdun, and pushed curiosity a little further in Argonne. Brought back "manu militari", she wrote war reports for "Le Matin". They will be published in " Les Heures longues 1914-1917 ".
Lucien Descaves' response, dated 10 March, is published in Les Tranchées de Louis Pergaud, p. 307.
Not in Correspondance, in Œuvres complètes de Louis Pergaud, Mercure de France, 1955 ; as well as Bernard Piccoli, Les Tranchées de Louis Pergaud, Bar-le-Duc, Connaissance de la Meuse, 14/18 Meuse, 2006.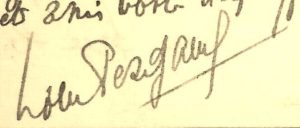 4 500 €