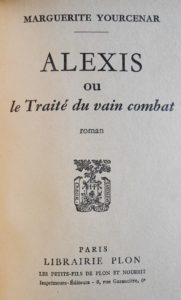 Marguerite Yourcenar. Alexis ou le Traité du Vain Combat. Paris, Plon, 1952. In-8°. 191 pp. Bradel binding of green papier boards, gilt title, cover kept.
2th edition, preceded by a short preface that can be considered the first outline of the final preface published in 1965.
Beautiful dedication of the author to Marie Laurencin: "to Marie Laurencin, friendly tribute Alexis ou le traité du vain combat portrait – on a black background – of a young man in grey, blue-eyed, Marguerite Yourcenar ".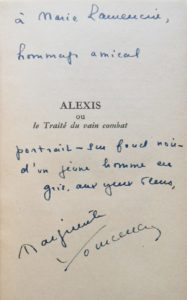 Alexis, published in 1929, is Marguerite Yourcenar's first novel and revealed her great talent as a writer. This short tale, still scabrous at the time, was inspired by recent circumstances.
Like all her heroes, Alexis wonders to better understand the world and understand himself better. He tries to get out of a false situation that is the breakdown of his marriage. In a long letter, twenty-four-year-old musician, he describes to his wife Monique the "vain struggle" he has been waging for years against the nature of his natural inclination and which leads him to break up: the love of men that is suggested between the lines of the narrative.
Homosexual, the author sends a copy of this fine psychological analysis to her friend Marie Laurencin, bisexual herself, whose relationship with Nicole Groult had been described as "nymphism", term applied to her painting, to which the author's dedication talks about.
Sold