Emotional testimony of gratitude from the author to his queen, now exiled to Paris since 1868, who had supported him in his pharaonic architectural project, one of the grandest of its century in that area.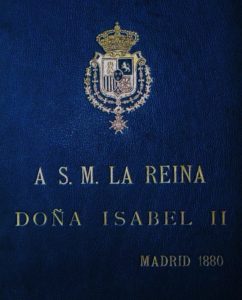 José Marin-Baldo. Proyecto de un monumento á la gloria de Cristóbal Colon y de Españhas, por el descubrimiento del nuevo mundo. Madrid, M. Minuesa, 1876. In-8°. 83 pp. Contemporary full green shagreen , back with 5 false raised bands adorned , green calf label, golden fillets on heads, golden arms on covers framed by a gilt fillet, dono in golden letters on front cover, gilt ornaments on the cuts, gilt slices.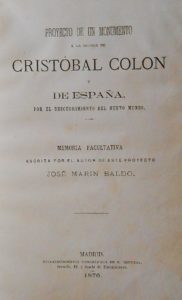 First edition, enclosed 9 original photographic prints . the model of the monument mounted on a strong cardboard, thumb-indexed.
José Marin-Baldo y Calchia (Murcie, 1826-id, 1891), one of the most fascinating architects of his time, trained in Madrid and Paris, had elaborated a grandiose monument to pay tribute to Christopher Columbus. But the dimensions of it were such that he could not find a place to erect or finance. However, he was supported by Queen Isabella II, who financed the construction of a scale model of 1/30th and had it presented at the National Exhibition of Fine Arts in 1866. Ten years later, the monumental project won a gold medal at the Philadelphia World's Fair in 1876, as the architect specifies in an autograph note; his project was awarded and qualified by the jury "de bello, y de original y grande ".
Gift copy from the author to Queen Isabella II of Spain (dono on the cover "A S. M. la Reina Doña Isabel II Madrid 1880 »), with the sovereign's arms on the book covers and a dedication: "A S. M. la Reina Doña Isabel segunda, testimonio de gratitud y del mas profundo respecto de su humilde, reconocido servidor. El autor. "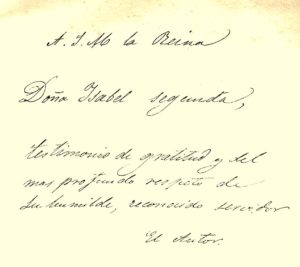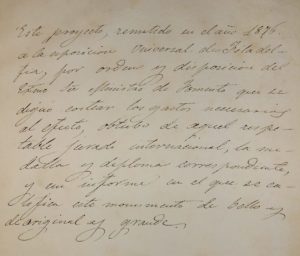 Owner'stamp of Montclar Castle Library (in Saint-Georges-de-Monclard, Dordogne) , and modern ex-libris with arms (1976) from its owner, Patrick Esclafer de La Rode (Angoulême, 1944 – Périgueux, 2015), french historian and genealogist, best known for contributing to the revival of the legitimist current in France. He was general secretary of the council of the Duke of Anjou and Segovia, infant of Spain and head of the House of Bourbon.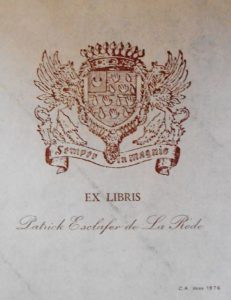 Few foxing, pale photographic prints; covers on extremities rubbed. Exceptional copy.
2 700€