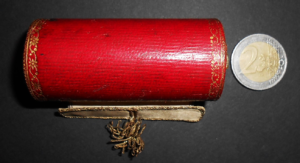 [Repères] Chronologiques Depuis la création du monde jusqu'à nos jours. [Paris, vers 1809]. A two-and-a-half-metre printed scroll, consisting of 12 sheets of vellum paper glued end to end. Curious and rare small cylindrical empire case in long-grained red morocco, rat's teeth, gilt fillet and floral roulette on the edges, sides circularly decorated with rat's teeth, gilt fillet and palmettes roulette, with, in the centers, the copper ends of the winding shaft, the roulette on the right. The end of the ribbon is tied with ivory vellum, edged with gold thread and with a tassel of gold thread in the middle. The case measures 6.9 cm long and 3.2 cm in diameter; the ribbon measures 5.3 x 251 cm.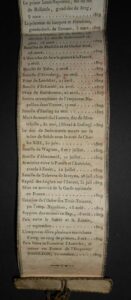 The chronological ribbon begins at the creation of the world and ends on 14 October 1809, the date of peace between France and Austria and Napoleon's return to France. It lists the major events in history, the arts and sciences, both in France and abroad, including the United States, and goes on to detail the revolutionary events, the fall of royalty, and ends with the Napoleonic epic. To the emperor's credit, the wars ended with the Treaty of Schönbrunn, putting an end to the Fifth Coalition. Napoleon was at the height of his power. From Adam to Napoleon, from the Creation of the world to a new Europe shaped by the emperor, this chronological ribbon is a fascinating testimony to imperial adulation.
In A Matter of Size, Miniature Bindings and Texts from the Collection of Patricia J. Pistner, New York, The Grolier Club, 2019, no. 53 presents a similar object, entitled Tableau chronologique des évènemens les plus remarquables, which is less complete as it only ends with Napoleon's entry into Madrid in 1808, with variations on the tubecase (ornaments, scroll and ribbon attachment).
A few very rare stains, minor rubbing to the slipcase.
Extremely rare miniature object celebrating the Emperor.
4 800 €