Paul Eluard (1895-1952). Bonne Justice. Autograph poem-calligram signed in its center, no place no date [around 1949]. 1 page, circle, 23,7 cm in diameter.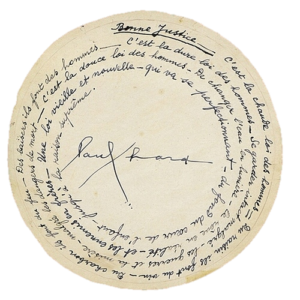 Moving poem, the last of the collection Pouvoir tout dire published by Gallimard in 1951, the year before the poet's death. It had previously been published in the'Almanach ouvrier-paysan . 1950 (autumn 1949), pp. 94-95, marked "Unpublished poem" and illustrated with a drawing by Edouard Pignon ; see also L. Parrot, Paul Eluard, 1953, p. 195.
Eluard, after Nusch's sudden death in 1946, had just met Dominique Lemort whom he married in 1951, and participated in numerous peace congresses (Poland, Paris, Mexico). The poem illustrates his state of mind : to his trust in Man, to the evocation of love, hope and fraternity, responds to the circular form of the calligram, harmonious cycle of life in its unity and rebirth.
His friend Picasso illustrated magnificently Bonne Justice in the 60.
This is the warm law of humans
From the grapes they make wine
From charcoal they make fire
From kisses they make men
This is the hard law of men
To keep themselves safe despite
Wars and misery
Despite the dangers of death
This is the sweet law of men
To change water into light
Dream in reality
And enemies into brothers
An old and new law
That continues to perfect itself
From the bottom of the child's heart
To the supreme reason.
Outer circle drawn in pencil, few foxes, piece of paper glued to the back with glue trace.
Exceptional document.
" It is extremely rare to find Eluard's manuscripts arranged in this way." (Lettres & Manuscripts, petits et grands secrets, Flammarion/musée des lettres et manuscrits, Paris, 2010, p. 201, with photo).
5 000 €