Antoine Petit. Cours de Phisïologie par Mun Antoine Petit, Docteur Regent de la faculté de médecine de Paris. Paris, 18 November 1763. Manuscript autograph. In-4°. 425 pp., 1 p. white, [3] pp. (table). Contemporary full marbled fawn-coloured calf, back with 5 raised bands with floral ornements, fawn-coloured morocco label, double bild tooling fillet on covers, red edges.
Precious autograph manuscript, unpublished, written in a careful handwriting, perfectly readable, in its contemporary binding.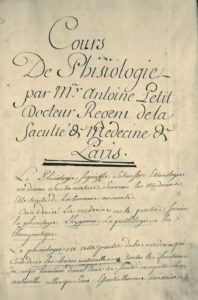 Antoine Petit (1722-1794), was professor of anatomy at the King's Garden and inspector of the kingdom's military hospitals, one of the most famous doctors of his time, both as a practitioner and as a teacher; he received consultants from all over France and Europe. Skilled surgeon, anatomist scientist, the safety of his tact in the diagnosis of diseases made him distinguish, among the most skilled doctors of his time, as the first of them. This reputation opened the doors of the Academy of Sciences to him in 1760. On Ferrein's death, he obtained the chair of anatomy at the King's Garden, which he made it famous by the depth and clarity of his lessons, . 1769 to 1778, to which the students were rushing. Indeed, Antoine Petit drew a great audience to his lessons, by his knowledge, and by his eloquence, and above all by his open and conciliatory ideas. This remarkable man was passionate about surgery, and loved surgeons even though he was a member of the Faculty of Medicine in Paris, where he created, by the way, an anatomy chair and a chair of surgery, whose teachers were to be replaced after ten years of teaching, and then give way to younger colleagues.
His writings are few in number ; Hoefer has counted only four (Nouvelle Biographie générale, tome 39, col. 715-716), and doesn't quote this physiology course.
Professor Petit, after the story of man's life, discusses its functions (digestion, food, bloodstream, breath, sweating, muscle movement, delivery, fetal nutrition, milk, urine, etc.), its sensations (hearing, touch, smell, taste and view) and its temperament (blood, bilious, " phlegmatic " and "melancholy "). The course ends with "This is, my Lords, what I have to teach you about the history of man considered in the natural state".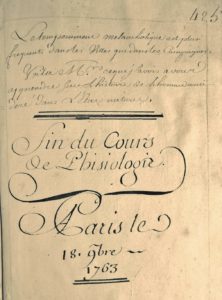 Some discreet annotations on the cover page (recipe ? and pen tests).
Small corner cut at the cover page. Small slits at the head of spine without missing, corner wear, slightly rubbed. Precious document. Rare.
4 800 €