Pierre Chatillon (1885-1974), Swiss illustrator. [German High Command during the Great War] Hindenbourg [sic], on Kronprinz, Tirpitz [and the generals] Below, Bernstorff, Linsingen, Moltke, Bissing, and Woyrsch. Series of 9 captioned and signed portraits-charges, no date [1914-1918], no place. Pencil drawings, charcoal and watercolor on strong paper. Dimension : 45 x 29 cm.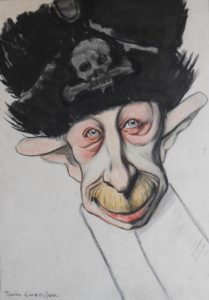 Stunning collection.
Pierre Chatillon's production was very successful during the war and was published in several countries. The artist, while he was mobilized in the Swiss army, was convicted in 1915 to a prison sentence by a federal military court for the publication of a cartoon depicting William II as a butcher, the blood-stained apron ("The Envoy of God"). After the war, Chatillon pursued a career as a press cartoonist in Geneva, while painting landscapes.
A few tiny spots and marginal tears without lack and without damage to the drawing. (Hindenbourg and the Kronprinz are marginally strengthened at the back, and Bissing presents a small marginal tear without damage to the portrait).
4 500 €