Pierre Louÿs (1870-1925), french poet and novellist. Gammes. Autograph poem in purple ink, unsigned, no place no date [around 1905]. 1 p. in-4°, Joyson Superfine watermarked paper.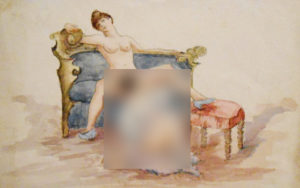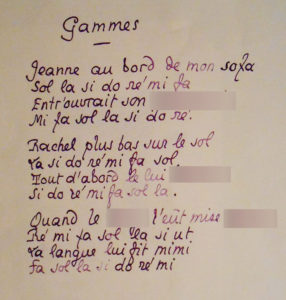 Very erotic poem of 3 heptasyllabic rhyming couplets quatrains, that we think unpublished .
Between each erotic verse, Pierre Louÿs intercales the scale, sort of chorus started on a different note each time, the last serving rhyme (only the B, the note that harmony describes as sensible, is not used) ; it thus gives the poem a most sensual rhythm and an elegance of great simplicity, thus mitigating the obscenity of verses, delicate sublimation in which the poet excelled. Note the remarkable balance of the poem made by its structure around the number 7: the 7 notes of the scale, , 7 syllabes verses, the union of 3 and 4 (the 3 quatrains in 4 verses each). The scales, daily exercise, provide the artist with technical mastery of his art and allow him to express himself fully. These Gammes wouldn't they be the prelude to saphic erotic games in the vein of Trois Filles de leur mère ?
Jeanne on the edge of my sofa
Sol la si do ré mi fa
Entering opened her p[…] golden
Mi fa sol la si do ré.
Rachel down on the floor
La si do ré mi fa sol
First of all b[…]
Si do ré mi fa sol la.
When the f[…] put her in h[…][…]
Ré mi fa sol la si ut,
The tongue made her mimi
Fa sol la si do ré mi.

Is it a facetious tribute to the Chansons de Bilitis set to music by his friend Claude Debussy and created Pleyel Hall on 17 March 1900? Or the Jeanne of the poem would she be Jeanne Roques (1889-1957), the famous "vamp" Musidora, of which Pierre Louÿs was the lover, and who was in love with Colette when she was 17 ., in 1906, at the time when the writer triumphed in her mime roles and displayed her homosexuality, the poet thus realizing the fantasy of his mistress?
The illustration of the poem is anonymous. Finely watercolour pencil drawing. No place, no date [contemporary of the poem]. Dimension : 12,8 x 16,8 cm. Cut corners, 4 pinholes, rare marginal dirt.
Perfect illustration, fine and elegant, whose sensuality echoes that of Gammes.
Two pieces in perfect harmony.
Uncensored notice on request.
1 500 €