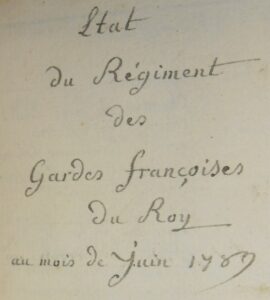 [Marquis de Thuisy]. État du Régiment des Gardes Françoises du Roy au mois de Juin 1789. [Paris, 1789]. Manuscript in-16. [1], 7 white, 93 pp., 13 ff. white. Long-grained blue morocco, richly decorated long back, plates decorated with gilt fillet frames and fans on corner, Golden supra-libris on the upper plate in a stylized golden circle, golden fillet on cuts and turn-ins, pink endpapers, red edges. (Comte de Caumont, Londres, with his label).
The French Guards were to rally the people of Paris and, after dissolution, many of them formed the backbone of the National Guard and actively participated in the storming of the Bastille. Written a few weeks, or even a few days before these events, this Etat des Gardes Françaises is an exceptional document.
Manuscript of the Marquis de Thuisy with his name golden on the front cover. Entered the Regiment in 1767, Jean-Baptiste Charles Goujon de Thuisy (1751-1834) was then first lieutenant in the French Guards since 1788, in Brache's company, rue de Popincourt ; knight of Malta, he appears on the pp.. 27 and 50.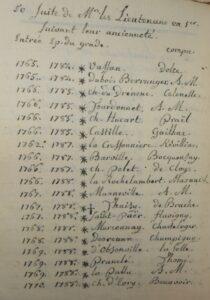 In front of some names, he made "this mark:+: [that] refers to those who have been guillotined "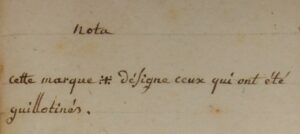 and clarified, p. 85, "in 1823, I knew from Mr de Barville, former Lieutenant in the Guards, that 66 sergeants of the regiment did not take sides in the National Guard, and under his dictation, I marked in the margin with numbers the names of the sergeants who came to join the corps of men-at-arms in 1771 [read 1791] in Coblents ".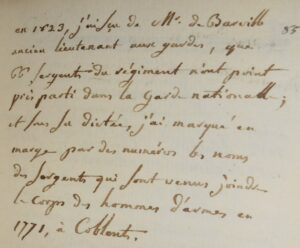 15 sergeants are noted, whose 1st, " Noël was shot in Quiberon",

and the 15th, André, added to the list, "Sergeant of Music " is followed by "2 grenadiers, of which, Julien, is an officer in the British fighters. "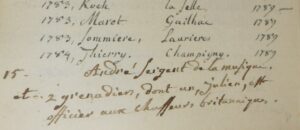 François-Louis de Barville (1749-1836) was first lieutenant in the Bocquensay Company, rue Poissonnière (p. 30). He was deputy of the nobility of the bailiwick of Orléans at the Estates General on 2 April 1789.
It should be noted that the future Marshal of the Empire Lefebvre appears on theEtat, p. 32, his name spelled "Lefèvre ", as long as 1st sergeant of the Vaugiraud company, at La Courtille. Quite a symbol!
Son of Louis François Goujon, Marquis de Thuisy, counsellor in the parlement of Paris, hereditary seneschal of Reims, and of Marie Louise Le Rebours, Jean-Baptiste Charles Goujon de Thuisy entered the service of the Dauphine as a page on 1st April 1766 before being admitted page of the Petite Écurie in February 1767. Entered the French Guards, he then made his caravans in Malta in 1771 and 1773. Second Lieutenant on 16 April 1780, he was elected substitute of the nobility for the bailiwick of Reims at the Estates General on 27 March 1789. Emigrated in 1792, he served in the army of princes before going to England from where he returned with the Bourbons who named him maréchal de camp in an honorary capacity on 7 August 1816. (Prévost et Roman d'Amat, Dictionnaire de biographie française, t. XVI, col. 731-732).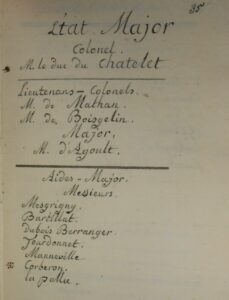 The manuscript, written by beautiful handwriting, includes a legend titled Warning (p. 2), the names of the 30 Companies, their barracks, their old and new officers and sergeants (pp. 3 to 32, pp. 33 and 34 blanks), the staff of M. the Duke of Chatelet (pp. 35 to 39, p. 40 blank), the Board of Directors (p. 41 and 42, with the list of Field Marshals in 6 April 1788, pp. 43 and 44 blanks), Captains, first and second lieutenants, Second Lieutenants, ensigns, according to their seniority (p. 45 to 67), the situation of the battalions for the service of Paris (pp. 68 and 69), towers to walk in the campaign (pp. 80 and 81), sergeants (pp.72 to 86), handling (pp. 87 and 88), Hospitals, Chaplains, Recruits, Artillery and guardhouse (pp. 89 to 91), Location of barracks (pp. 92 and 93).
The manuscript is luxuriously bound by Auguste-Marie, comte de Caumont (1743-1839), bookbinder in London during the Revolution, as indicated by his label: "N° 1 Frith Street, Soho Square ".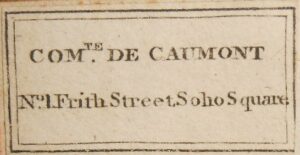 Minor nobility, king's lieutenant for the castle and the city of Dieppe during the Revolution, he emigrated to 1791, and established himself as a bookbinder in London, in the Soho district, in 1797 at 3 Poland Street, then in 1800, at 39 Gerrard Street and finally in 1803 at 1 Frith Street, until 1814. In his renowned workshop, he will employ up to five workers, of which L. Cordeval, and Christian Kalthoeber (. 1807 to 1814), subcontractor occasionally to Herring. The English aristocracy and French émigrés, such as the Marquis de Thuisy or Cléry, use his services. His bindings are preserved by prestigious institutions (Fitzwilliam Library, Cambridge, British Library, Boddleian Library, Bibliothèque Nationale de France…).
In 1814, he accompanied the Count of Provence who returned to France. He will then be promoted to lieutenant-general., and Grand Cross of the Order of Saint-Louis. He retired shortly afterwards to his castle at Bois Clieu in Derchigny where he died in 1839, at the age of 90 ..
From the library of Alain de Suzannet, with his ex-libris engraved by Agry.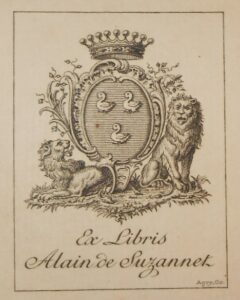 Count Alain de Suzannet (1882-1950) was an eclectic Swiss bibliophile whose fine collections ranged from illustrated works of the XVIIIth to Charles Dickens via Töppfer and mountaineering.
His great-grandfather was General Constant de Suzannet (1772-1815), first cousin of Henri de la Rochejaquelein, himself chief chouan. He was supernumerary in the French Guards in June. 1788, in the company of La Selle, Faubourg Saint-Jacques (See p. 17 of our Etat).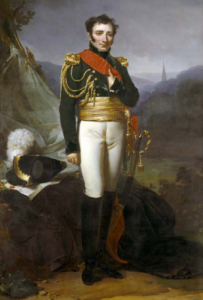 When this regiment, having made a pact in July 1789, with the revolutionaries, is dissolved, he retired to La Chardière. He emigrated with his parents and took part in the campaign of the princes in 1792. In 1794, he was appointed lieutenant and took part in the Quiberon expedition. (1795). The following July, he landed in the Vendée and joined Charette who campaigned in the Pays de Retz. The general attached him to his staff and subsequently appointed him head of division.. He is in charge of several important missions including one with Stofflet. In January 1796, he accompanies in England the envoys of the Vendéens to the British government and the Count of Artois. He returned to France in March and after some fighting in Brittany returned to the Vendée a few days after the death of Charette.. Hidden in Angers, he obtained from Hoche a passport for Switzerland and then, wishing to defend the princes peacefully, returns to France at the end of 1796. Forced to flee to London after the discovery of the activity of the Royalist Agency, he prepared a monarchist coup d'état. The Count of Artois appointed him in June 1797 commander of Bas-Poitou and the Pays de Retz. In October 1799, he marched on Montaigu at the head of 3 000 men but is wounded.
Concerned about pacification, he signed the Treaty of Montfaucon but wished to raise the Vendée again., He was arrested in Paris in December 1800. Transferred to Fort de Joux, he escaped with d'Andigné in August 1802. He was again forced into exile and could not return until 1806. The Restoration conferred on him the cordon of Saint-Louis and appointed him maréchal de camp. Under the Cent-Jours, he took up arms again and was mortally wounded on 20 June 1815. (Cf. Alain de Suzannet, Notes généalogiques et biographiques sur la famille Suzannet, Lausanne, impr. Centrale, January 1943).
Very small and very discreet sinks on the covers.
Attractive and precious document.
4 800 €