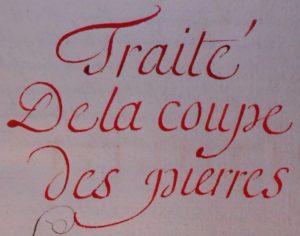 [Louis Chausson]. Traité de la coupe des pierres. No place, no date [1754-1774]. Manuscript in-4 4 white pages, 541 pages, 5 white pages, all marged. Contemporary full havana calf, back with 5 raised bands richly decorated, label "Manuel d'archit"[ecture] in red morocco, cold fillet on covers, red speckled edges.

95 fine pen and ink drawn plates, which 70 out of text (54 folding and 16 full page) and 25 full-page in-text, and 4 in-text pen drawings.
Precious manuscript of architecture from the end of Louis XV's reign, that we think unpublished , written with an elegant and very careful handwriting; the plates are perfectly pen drawn.
A small leaf XVIIIth, glued heading, shows the genesis of the treaty: "This stone-cutting manual was started in 1754 and finished in 1774. It was dedicated to Mr. Antoine, architect of the Hôtel des Monnoies by Sieur Chausson the elder. It was given to me by him. "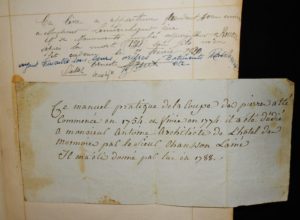 We know a Louis Chausson, building fitter, including a will dated 23 July 1772 kept in the National Archives (Archives of the Chatelet de Paris, Y//72 fol.14). This entrepreneur was in contact with architect Jacques Denis Antoine (1733-1801), dedicationary of the manuscript. It then belonged to a certain Lemarchand and then to his son who offered it to Ernest Sevreux, master-tailor-scree in Oissel, as indicated in the autographed note he wrote on the cover page: "This book belonged for 50 years around to Mr. Lemarchand Sr., M[erchan]t of Funeral Monuments, fitter in Rouen. After his death (1918), his son gave me it as a gift on 5 February 1920, having worked under them, Buildings, Refreshments, etc. Ernest Sevreux, Oissel, Seine inf[érieu]st".
The book is very different from the treaties we consulted: Jean-Baptiste de La Rue, Traité de la coupe de pierres. Paris, Imprimerie Royale, 1728, in folio, reissued in 1764 by Charles-Antoine Jombert; For. Bosse, Le Pratique du trait à preuves, de Mr Desargues, lyonnois, pour la Coupe des Pierres en l'Architecture. Paris, Pierre Des-Hayes, 1643 ; Frezier, La Théorie et la pratique de la coupe des pierres et des bois […] ou Traité de stéréotomie. Strasbourg, Doulsseker, 1737 ; Simonin, Traité élémentaire de la coupe des pierres, ou Art du trait. Paris, Veuve Jean, 1835 ; C.-F.-A. Leroy, Traité de la stéréotomie. Paris, Gauthier-Villars, 1874.
Our manuscript includes a preliminary chapter followed by 93 chapters on vaults, archs, doors, cradles, descents, passages, lunettes, larmiers, back-vaults, spirals, stairs, etc.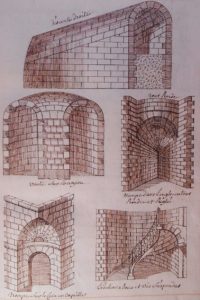 We find: De la poussée des voutes et de l'espesseur que doivent avoir les murs et arcboutans qui les portent (ch. 1) ; Du trait des arcs, doors, et berceaux droits et sans biais (2) ; Descente droite rachetant un berceau par testes égalles et en plein cintre (3) ; Descente droitte rachetant un berceau et surmontée par devant (5) ; Déscente biaise par devant et par dérière rachetant un berceau en plein cintre par testes égalles et par profil (9) ; Descente droite en tour ronde et en talus par le devant ayant son plein cintre et par testes égales rachetant une voûte sphérique (15) ; Pasage droit entre deux berceaux tracée par écarrissement (22) ; Du larmier bombé et rempant rencontrant une lunette pratiqué dans un berceau (29) ; Des arcs, doors, et berceaux biais par teste (33) ; Porte en tour ronde biaise rachetant un talut et une voute de four par équarissement (39) ; De la trompe droite et fondamentale des autres (44) ; Trompe sur un angle aigus rachetant un berceau et un talut (49) ; Trompe ondée et rempente avec la trompe rempante et droite par devant (56) ; De la voute d'areste barlongue fait par équarissement (66) ; Voute de four en pendentif sur un quarrez (74) ; La vis St gilles ronde (84) ; L'escalier à repos avec ou sans lunette rempante par éscarrissement (86) ; Escalier suspendüe en arc de cloistre et à repos (88), etc.
Skillful restorations. Very small marginal clear circles on few leaves without damage to the text or plates, minimal marginal waterstain on the 2 white heading leaves , as well as 1st leaf of text . Very nice copy however.
15 000 €