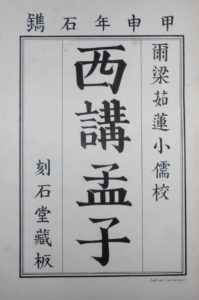 Meng Tseu [Mencius in western language, by Stanislas Julien]. 道光四年(1824年),石板鐫刻 西講孟子,梁茹蓮校訂. [The Fourth Canonical Book]. No place, no name, no date [Paris, Dondrey-Dupré fils, Société Asiatique, 1824]. 2 parts in 1 vol. in-8°. 1 large title page, 122 pp.; 161 pp. sinograms (morphemes), completely lithographed by the Count Charles-Philibert de Lasteyrie. In Chinese. Contemporary full red shagreen, back with 4 false raised bands adorned, gilt title, romantic covers decorated with a large gilt motif, golden fillet on cuts, triple gilt fillets on inner-covers, gilt slices, white silk on inner-covers and end-papers.
First edition, extremely rare, probably the copy of Stanislas Julien, because it has few annotations of his hand.
This is the second Chinese book printed in France and the first book published by the Asian Society of Paris. It takes up the Chinese text in sinograms (morphemes) printed on 143 lithographed leaflets in Paris in 1824 by Count Charles-Philibert de Lasteyrie, philanthropist and patron who played a major role in the development of lithography in France. This is the work of Meng-Tseu (400-316 before. J. C.), considered by the Chinese to be one of the most 4 books par excellence or the fourth canonical book of the second order. This will be followed by 2 latin translation volumes sold separately at the time in 1826 and 1829, by A.-S. Julien, eminent sinologist, student of Abel Rémusat to whom he will succeed the Collège de France. He then translated the greatest texts of the tradition Chinese philosophical.

He annotated, in pencil, pp. 7, 17, 27, 29, 123, 125 and 161 , Volume II, specifying the translation of certain sinograms.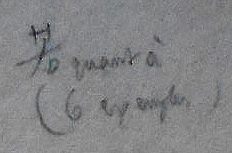 Count Charles-Philibert de Lasteyrie du Saillant (Brive-la-Gaillarde, 1759 – Paris, 1849), French agronomist and philosopher, looked after the rural economy and travelled all over Europe to study the different farming processes ; he helped import the Merino sheep (1795), took care of the indigo tree culture, of rice, established the first manufacture of metal feathers, was interested in wool washrooms, in mills to grind plaster, in aloe in the manufacture of yarn and lace, in the merry-go-round mill to grind chocolate. He encouraged mutual education and the spread of the vaccine on which he wrote. He went in 1812 in Munich to study lithography with Aloys Senefelder and created in Paris in 1816 the first lithographic printing press. "He must be considered the promoter of lithography in France" (Benezit, VI, 465 ; Béraldi, 54-55).
Quérard, VI, 40 ; Brunet, III, 1632-1633 ; Graesse, Trésor de livres rares et précieux, III, 489.
Some stains, some browned leaflets, pp. 9-10/11-12 and 41-42/43-44 of volume II switched, marginal tear without lack and without damage to the lithography p. 65-66 volume I; rubbed joints, small accident in the head of spine, 8 small sinking points (pinheads) on the back cover without gravity.
Major work for the beginnings of sinology in France, one of the first examples of lithographic printing, Prestigious provenance.
Sold