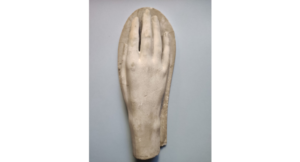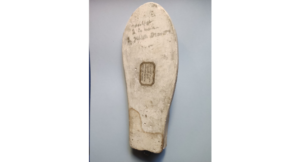 [Charles Simon Pradier (1783-1847), Swiss engraver]. Moulding of Juliette Drouet's hand. Plaster. Dimensions 25 x 10 x 5 cm. With handwritten mention in ink on the base " one-hand moulding of Juliette Drouet " and glued label indicating that this plaster was presented to the' " San Francisco World's Fair – French section – Salon du Romantisme 1915 ".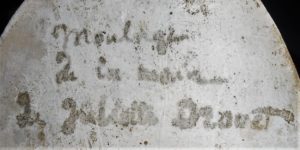 Beautiful right hand of Victor Hugo's mistress, then 20 ..
If the sculptor James Pradier meets and becomes the lover of Juliette Drouet (1806-1883) in 1825 it is, by tradition, to attribute this plaster to his brother engraver Charles Simon . The literature about James Pradier does not mention any representation of the actress by the Geneva sculptor while there is mention of a marble hand carved by the engraver.
A white marble of this hand, held by the Romain Gary Heritage Library in Nice, has on the back a handwritten word from the donor Louis Guimbaud who specifies that he possessed a plaster molding of the hand of Juliette Drouet acquired in 1912 from the little nephew of the actress, André Koch. As this molding had suffered a lot from the dust, he had agreed to exchange it 1920 against this white marble copy.
The French section and its Salon du romantisme of the San Francisco World Expo, in 1915, tried to recreate the atmosphere of a Parisian literary salon of the XIXth century. A letter from 6 January 1915, with the header of this event, signed by the delegate to the Commissariat général, M. Funck Brentano, specifies that Louis Guimbaud proposes for this event a clock belonging to the writer, a plaster bust of Juliette Drouet by Victor Vilain, a plaster hand by Victor Hugo made by moulding in 1883, an autograph of Hugo and a prayer dictated by him to his mistress. Juliette Drouet's plaster hand must certainly have been part of the ensemble, as indicated by the Exhibition label on the back.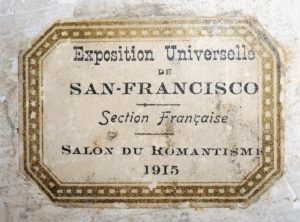 See Claude Lapaire, James Pradier et la sculpture française de la génération romantique, 5 continents Editions, Milan, 2010 ; Description of a clock that belonged to V. Hugo and J. Drouet and presented at the San Francisco World's Exposition in 1915, Limoges-auction, 30 November 2021, n° 102 in the catalogue.
Small lack on the base without gravity or damage to the hand. Small metal fastener on the base included in the plaster.
Moving and splendid piece.