Henry Miller (1891-1980). 71 documents (62 in French, sometimes with a few sentences in English, and 9 in English). California (Big Sur then Pacific Palisades), Monte-Carlo (5), La Ciotat (at Michel Simon's home) (4), Vienna (Isère) (at Albert Maillé's home) (4), Montpellier (2), Sommières (1), Cannes (1), Formentor (Majorca) (2) and Berlin (1), 9 April 1952-1st November 1969, to Edmond Buchet, Corrêa Editions or Vésinet (some to Edmond and Mousse, his wife, as well as, to Mousse only, one card and one letter from Henry and an autograph letter signed by Eve). There is 68 from Henry Miller (52 autograph letters signed, 13 postcards or signed autograph letter cards, 2 typed letters signed and 1 article with autograph annotations), 3 from his wife Eve (2 typed letters written instead of Henry and 1 signed handwritten letter addressed to Mousse).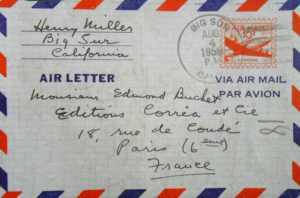 With the copy of Plexus with a long and magnificent sending of the author to Edmond and Mousse Buchet.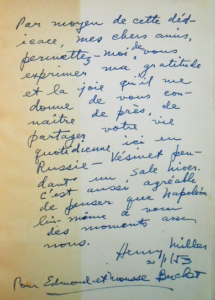 Very interesting unpublished correspondence from Henry Miller to his publisher Edmond Buchet (1902-1997) which had carried on, around 1930, with Jean Chastel, the Corrêa Editions, founded in the early years 1920, later buchet/Chastel. He was the director and editor from 1935 to 1969. He discovered among others Lawrence Durrell and Henry Miller whose publication of the Monde du Sexe then especially Plexus started a long and faithful editorial production. The writer, with his wife Eve, had stayed with the Buchets, at the Vésinet from 10 at 23 January 1953, then briefly, in 1959, 1960 and 1962, thus building trust and lasting friendship; Edmond Buchet will write many pages about him in Les Auteurs de ma vie ou ma vie d'éditeur, published in 1969.
Miller particularly evokes his works, from writing to publishing, his material difficulties and his often difficult negotiations with his publishers, but also his literary favorites and artistic tastes, his family life, friendships, Big Sur his paradise, his travels, etc.
In particular, it deals with the publication of Plexus, of the difficult progress of Nexus and the sequel Miller envisioned, legal proceedings against his works, about their publications in Italy, in Austria, in Germany and Japan ; the Rosy Crucifixion is of course extensively discussed, but also Le Monde du sexe, The Smile at the foot of the Ladder and its translation into French, Hamlet, The Books in my Life, Tropic of Cancer and many other works, telles Aller-Retour New York, Semblance of a Devoted Past, Big Sur and the Oranges of Hieronymous Bosch as well as his past and current writings (Maurizius forever, Patchen, Man of Anger & Light, The Waters Reglitterized, Draco and the Ecliptique, Semblance of a Devoted Past, The Air-conditioned nightmare, Remember to Remember (Souvenir Souvenirs), The Colossus of Maroussi, The Happy Rock, The Children of the Earth, The Absolute Collective, Black Spring, Souvenirs d'Espagne, Anthology of Famous Writers [on Whitman], Un Diable au paradis, Art and Outrage, Just Wild about Harry, Watercolours, Drawings & His Essay « The Angel is My Watermark », Peindre, c'est aimer à nouveau), his prefaces (Quest by Dibbern, If a Man Be Mad by Walker Winslow-Harold Maine [pseudonym], I Am Jonathan Scrivener by C. Houghton, My Friend Henry Miller by Perlès and Justine by Durrell), as well as his Correspondance privée with Lawrence Durrell.
Throughout his letters, we meet Maurice Nadeau, literary critic and director of the collection "Le Chemin de la Vie" at Buchet, publishers and their collaborators such as Gallimard, Seghers, Laffont, Girodias, Tosi, Mondadori, Ben Porter, J. Bradley, J. Laughlin, G. Schoeller and Ledig-Rowolht, his translator G. Belmont, his friends in the world of the arts: the painters F. Léger, Utrillo, Schatz, Vlaminck, R.. Dietrich-Grunewald, the photographer Brassaï, the virtuoso pianist J. Gimpel, the composer A. Bibalo, the film producer Joe Levine, the director F. Truffaut, the actor M. Simon and the Professor of Medicine J. Bernard. Of course, his literary friendships are very present: Queneau, Breton, Fraenkel, Perlès, Huntington Cairns, Constantin and Georges Katsimbalis, Cendrars, Dibbern, Caplain, Claude Houghton, Albert Paraz, Emil White, Gutkind, P. Lesdain, For. Maillet, F. Rude, Fontbrune, Durrell, Winslow, Rink, Kenney, Pachoutinsky, Joseph Delteil, Delourme, Denat, Robitaille, Birmann de Relles, Barret, Doner, Greville Healey, Magnin, Claude Durrell, Lambilliotte, Wickes, D. Aury, Ionesco, J. Ciardi ; finally, Miller evokes also D. H. Lawrence, Dujardin, Watts, O. Aubry, Whitman, Jourdain, T. Bernard, Huei, Bates, R.. Kanters, Däniken, C. Potok, Beethoven, Schumann, Nijinsky, Picasso, Nostradamus, Voltaire, Rousseau, Stendhal, Genevoix, Giono, Moréas, Dickens, Joyce, Napoleon and even De Gaulle.
Detailed correspondence on request.

Exceptional correspondence.

38 000 €