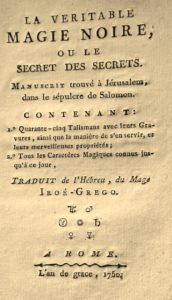 Iroé-Grego. La Véritable Magie noire, ou le Secret des Secrets. Manuscrit trouvé à Jérusalem, dans le sépulcre de Salomon. Contenant : I° Quarante-cinq Talismans avec leurs Gravures, ainsi que la manière de s'en servir, et leurs merveilleuses propriétés ; 2° Tous les Caractères Magiques connus jusqu'à ce jour. Traduit de l'Hébreu, du Mage Iroé-Grego. Rome, [no name], 1750. In-18. 164 pp. 46 engravings in the text. Sewed, uncut, black paper cover, as published.
Very rare original edition, same as the copy that the National Library of France digitized on Gallica. Caillet says that this anonymous grimoire is a "Serious work, real treatise on practical magic, based on Kabbalah and astrology ". The reissue by Bloquel, in Lille, around 1840, only counts 144 pp., with, as frontispiece, the engraving p. 33 of our edition, and also with a title page slightly different .
The opus, "very rare " according to Stanislas de Guaïta, in two books, is a real manual with many magical operations including invisibility and exorcism. The second book is devoted to the representation and use of pentacles, and ends with an exorcism ritual. Collin de Plancy, in his article "Magic and Wizard" states that "there are mostly incantations".
The cover, original, was reinforced in the XIXth century by two strips of black paper on 1st and 4th cover, and by pages of an edition of the Vicaire de Wakefield on 2th and 3th cover. Text in veryb good condition despite a small waterstain on the lower margin on pp. 37 to 56, without damage to the text.
Unknown edition to reference bibliographic catalogues, who only know the Blocquel edition in Lille, if you consider the title quoted : Collin de Plancy, Dictionnaire infernal, 319 ; Stanislas de Guaïta, 1051 ; Caillet, II, 5419 ; Dorbon, 5089.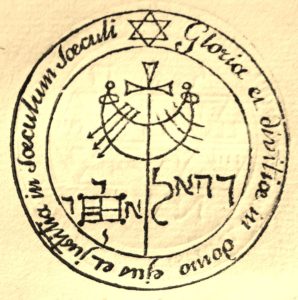 13 000 €