Victor Hugo (1802-1885). Autograph letter signed, Haute-Ville House, 8 septembre [1872], [to Raoul Lafagette]. 2 pp. double-sheets in-12. With autograph envelope addressed to « Monsieur Raoul Lafagette / 14, rue des Ursulines / Paris / Via London / France ", with Guernsey's postal markings, Calais and Paris, without the stamp.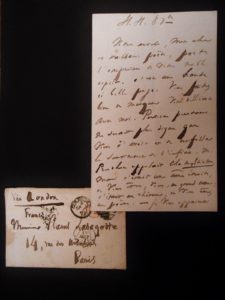 Hugo thanks poet Raoul Lafagette (Foix, 1842-id., 1913) for an article in which the Pyrenean, very materialistic, however, blamed his deism ; on this occasion, him, Hugo, the poet with a big heart, experiencing the feeling of infinity, compares to Proudhon, materialistic atheist, calling him a narrow-minded rhetoricor : " Your article, my dear and valiant poet, carries the expression of your noble spirit. It's a high and beautiful page. You do well to mark your dissent with me. No one yet would be more worthy than you to have and confess the feeling of infinity. M. Proudhon called it mysticism. But he was a narrow soul and you are, You, a big heart ; he was a rhetoricist and you're a poet. » Hugo then responds to a request from Lafagette: "I will support you with all my heart near Charles Blanc, if you think I'm good at something.. » The Poet was applying for a position at the Ministry of Fine Arts, led by Charles Blanc, Louis' brother. Thanks to the recommendation of Victor Hugo and the support of Louis Blanc, his candidacy will be successful. About it, Charles Blanc had written to his brother Louis : "I'll do my best to make him preferred to others " (quoted by Louis Blanc in his letter to Lafagette, Londres, 30 August 1872).
Disappointed by French political orientation, defeated in a by-election in Paris, Hugo had moved to Guernsey in August 1872 where he will stay for a year, time to write there Quatre-vingt-treize. His son was unable to find this Lafagette's article.. Was it an article about the Travailleurs de la Mer Louis Blanc wrote to Pyrenean 22 septembre, from Brighton, that he "seemed well thought out, vigorously written. Only it contains an appreciation that[delicately] finds a [little] risqué » or had Lafagette reported on l'Année terrible published in April of this year, collection in which Hugo declares himself deist, particularly in A l'évêque qui m'appelle athée ?
Published in his Correspondance vol. III (années 1867-1873) Paris, Albin Michel, printed by Ollendorff bookstore, published by the National Printing Company.