I. The plaster hand of Juliette Drouet, the love of his life.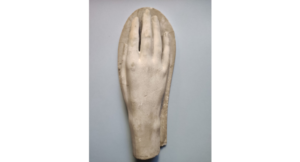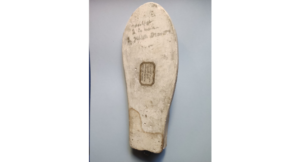 [Charles Simon Pradier (1783-1847), Swiss engraver]. Moulding of Juliette Drouet's hand. Plaster. around 1826. Dimensions 25 x 10 x 5 cm. With handwritten mention in ink on the base " one-hand moulding of Juliette Drouet " and glued label indicating that this plaster was presented to the' " San Francisco World's Fair – French section – Salon du Romantisme 1915 ".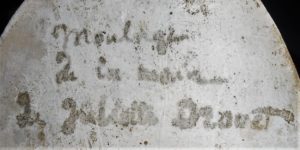 Beautiful right hand of Victor Hugo's mistress, then 20 ..
If the sculptor James Pradier meets and becomes the lover of Juliette Drouet (1806-1883) in 1825 it is, by tradition, to attribute this plaster to his brother engraver Charles Simon . The literature about James Pradier does not mention any representation of the actress by the Geneva sculptor while there is mention of a marble hand carved by the engraver.
A white marble of this hand, held by the Romain Gary Heritage Library in Nice, has on the back a handwritten word from the donor Louis Guimbaud who specifies that he possessed a plaster molding of the hand of Juliette Drouet acquired in 1912 from the little nephew of the actress, André Koch. As this molding had suffered a lot from the dust, he had agreed to exchange it 1920 against this white marble copy.
The French section and its Salon du romantisme of the San Francisco World Expo, in 1915, tried to recreate the atmosphere of a Parisian literary salon of the XIXth century. A letter from 6 January 1915, with the header of this event, signed by the delegate to the Commissariat général, M. Funck Brentano, specifies that Louis Guimbaud proposes for this event a clock belonging to the writer, a plaster bust of Juliette Drouet by Victor Vilain, a plaster hand by Victor Hugo made by moulding in 1883, an autograph of Hugo and a prayer dictated by him to his mistress. Juliette Drouet's plaster hand must certainly have been part of the ensemble, as indicated by the Exhibition label on the back.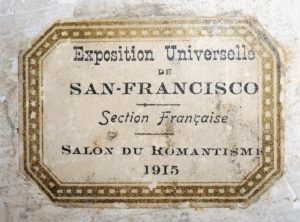 See Claude Lapaire, James Pradier et la sculpture française de la génération romantique, 5 continents Editions, Milan, 2010 ; Description of a clock that belonged to V. Hugo and J. Drouet and presented at the San Francisco World's Exposition in 1915, Limoges-auction, 30 November 2021, n° 102 in the catalogue.
Small lack on the base without gravity or damage to the hand. Small metal fastener on the base included in the plaster.
Moving and splendid piece.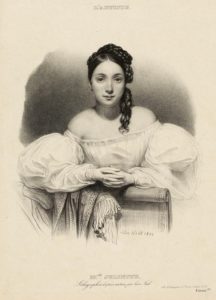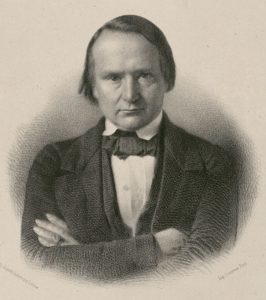 II. Juliet's fiery love letter to Victor
Juliette Drouet (alias Julienne Gauvain,1806-1883), French actress who was the mistress of Victor Hugo for nearly fifty years. Autograph letter signed "Juliette ", no place [Paris], 31 July [1849 ?], saturday noon 1/2 "Day of Sta Panties " [to Victor Hugo]. 4 pages in-8° on slightly wrinkled bluish paper.
Very beautiful love letter. Juliette Drouet humorously mocks her lover's drawings; she tells him that she has copied, "what a humiliating concession ! " his "margouillis " (shapeless and disgusting mixture, confused cluster). "I had to conform to my model by spilling my bottle in ink on my paper under the pretext of color and effect ".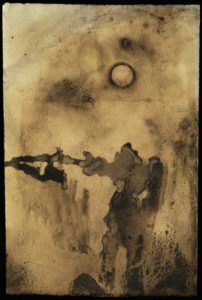 [Hugo will finally set up his painting studio in Juliette's dining room in August 1850].

She expects as a reward her "panties adorned with all its accessories. The embroidery must prevail over the bottom which can only be very thin and very small in the way you measured it to me.. "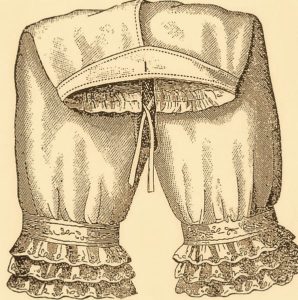 She looks forward to him, crazy about love and desire.
"I acquitted myself, before you've even contracted anything, but I am in the beautiful and generous use of paying in advance all the debts that we pay with ink, scribbles, heart and soul. It's my own way, it is worth many others.
I copied, copied! what a humiliating concession ! I copied, I said, your margouillis. I had to conform to my model by spilling my bottle in ink on my paper under the pretext of colour and effect. Finally I have nothing to reproach myself with except my too great weakness towards you. I hope you don't repent me and give me my panties adorned with all its accessories.. Embroidery must prevail over the bottom which can only be very thin and very small the way you measured it to me. Wherever you go I will be happy as long as I see you and you smile at me[,] I will be happy and the horizon, whatever it is, will seem to me the earthly and celestial paradise. The only grace I ask of you, my love, it's to come early if you can. Think that the memory of this evening should serve to illuminate many dark and sad evenings when you will not be with me.
I love you my Victor. I desire you. I'm waiting for you. Juliette "
Sale Cornette de Saint-Cyr, Hôtel Drouot-Richelieu, 22 June 2011, n° 27 (expert Thierry Bodin).
III. Victor Hugo, about the feeling of infinity, criticizes Pierre-Joseph Proudhon, atheist materialist.
Victor Hugo (1802-1885). Autograph letter signed, Haute-Ville House, 8 septembre [1872], [to Raoul Lafagette]. 2 pp. double-sheets in-12. With autograph envelope addressed to « Monsieur Raoul Lafagette / 14, rue des Ursulines / Paris / Via London / France ", with Guernsey's postal markings, Calais and Paris, without the stamp.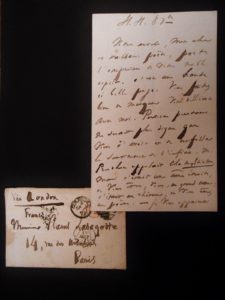 Hugo thanks poet Raoul Lafagette (Foix, 1842-id., 1913) for an article in which the Pyrenean, very materialistic, however, blamed his deism ; on this occasion, him, Hugo, the poet with a big heart, experiencing the feeling of infinity, compares to Proudhon, materialistic atheist, calling him a narrow-minded rhetoricor : " Your article, my dear and valiant poet, carries the expression of your noble spirit. It's a high and beautiful page. You do well to mark your dissent with me. No one yet would be more worthy than you to have and confess the feeling of infinity. M. Proudhon called it mysticism. But he was a narrow soul and you are, You, a big heart ; he was a rhetoricist and you're a poet. » Hugo then responds to a request from Lafagette: "I will support you with all my heart near Charles Blanc, if you think I'm good at something.. » The Poet was applying for a position at the Ministry of Fine Arts, led by Charles Blanc, Louis' brother. Thanks to the recommendation of Victor Hugo and the support of Louis Blanc, his candidacy will be successful. About it, Charles Blanc had written to his brother Louis : "I'll do my best to make him preferred to others " (quoted by Louis Blanc in his letter to Lafagette, Londres, 30 August 1872).
Disappointed by French political orientation, defeated in a by-election in Paris, Hugo had moved to Guernsey in August 1872 where he will stay for a year, time to write there Quatre-vingt-treize. His son was unable to find this Lafagette's article.. Was it an article about the Travailleurs de la Mer Louis Blanc wrote to Pyrenean 22 septembre, from Brighton, that he "seemed well thought out, vigorously written. Only it contains an appreciation that[delicately] finds a [little] risqué » or had Lafagette reported on l'Année terrible published in April of this year, collection in which Hugo declares himself deist, particularly in A l'évêque qui m'appelle athée ?
Published in his Correspondance vol. III (années 1867-1873) Paris, Albin Michel, printed by Ollendorff bookstore, published by the National Printing Company.
IV. Beautiful and moving elegiac poem by Hugo on time and death

Victor Hugo. The Clock. 4 first autograph stanzas [of 6], no place no date [1859]. Only front side on a large strip of watermarked blue paper (15,5 x 42 cm).
we feel the spikes of the kiss;
winter is coming. In the old church
I listen to the clock walking;
it looks like someone is sharpening
something in the bell tower.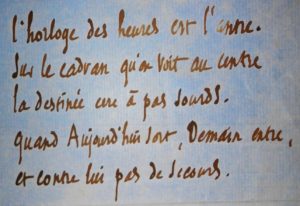 the clock of hours is the lair.
on the dial seen in the center
destiny wanders with deaf steps.
when Today comes out, Tomorrow comes into,
and against it no help.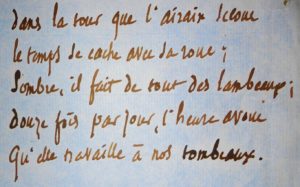 in the tower that the brass shakes
time hides with its wheel;
dark, he makes everything shreds;
twelve times a day, the hour admits
that it works at our tombs.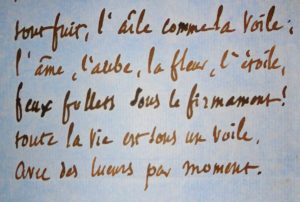 everything leaks, the wing as the sail;
the soul, the dawn, the flower, the star,
wild fires under the firmament!
all life is under a veil,
with glows at times.
[Don't rely on the dawn,
It's the minute that goes golden;
The lily in a day is tarnished;
The star leaves; the soul is still
More on the run in infinity.
Time wears out in its cubicle
What lives and what vegetates;
The dawn, the star, the soul, the flower,
Are four intecelles that throws
The grinding wheel of this grinder.
1859]
Manuscript revised by Hugo's hand of The Clock, poem in six stanzas of five octosyllabic verses, n° 62 from the copy of Chansons des rues et des bois completed by Victoire Etasse on 1st March 1862. The poem, dark and elegiac, denoting with the cheerful and lad character of the Chansons, was one of the fifteen discarded pieces in the collection published in 1865, perhaps reserved by Hugo to be part of the volume entitled Poésies de Jean Prouvaire et chansons de Gavroche that won't be published in the end.
As part of the Reliquats, The Clock is published, without the title, in Œuvres poétiques, collection of the Pléiade, volume III, Alentours des « Chansons des rues et des bois », p. 235, with the following note: "We only have the manuscript of the last two stanzas; a copy was used to reconstruct the full text ". Indeed, the end of the poem, on the same watermarked blue paper, with the same writing, is in the funds of the National Library of France, f. 62r of the manuscript 24738, « Reliquats des Chansons des rues et des bois ». It is digitized and freely searchable on Gallica : https://gallica.bnf.fr/ark:/12148/btv1b60008184/f125.item.
N° 126 Charavay's sale on 26 June 1986. With certificate of authentication established by Michel Castaing on 17 July 1986.
2 small tears in the head without lack and without damage to the text, small old reinforcement at the fold of the back. Beautiful condition though.
Moving collection. Unique.
Price on request.